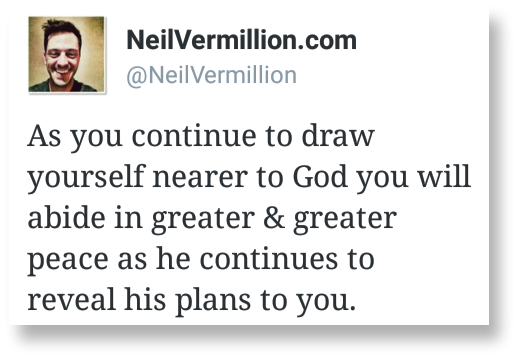 And as you continue abide in greater understanding, spawned from greater unity and closeness, you will find yourself more and more at peace continually. For as you see events happening, and as you have right understanding and interpretation of them, your heart will be at peace. You will understand things from my perspective rather than man's perspective. And with this understanding you will see the pieces of the puzzle fall together piece by piece, one by one. At all of this will make sense to you, though it will be surrounded by turmoil, chaos, and confusion in your natural world.
For my perspective will liberate you from your present limits. For you see and understand things linearly as fixed, finite, and limited. But as you begin to embrace my plans in your life, and follow more closely the path I have marked out for you, you will be able to comprehend more comprehensively, able to see the bigger picture. For my perspective sees it all, not just yesterday, today, and tomorrow, but even more. And as you are able to touch this reality and comprehend how incredibly vast I am, my plans for you, my timing, my great love for all, you will be able to better digest the meaning of the events that transpire before you.
And as you consume the delights of my understanding, and continue to feast yourself on the delights of my mysteries, your heart will be more and more awakened to a greater reality, a greater truth, a greater glory, a more eternal perspective than you presently see now. And this greater glory will cause your heart to remain alive in hope, joy, and anticipation of what is yet to come, rather than responding in fear, anxiety, or hopelessness.
So in my perspective your heart will abide in peace and continue to grow stronger day after day. For my spirit will reveal all things to you, even what is yet to come. And in this place of revelation and understanding you will remain and abide in peace regardless the circumstances you find yourself in this present world.