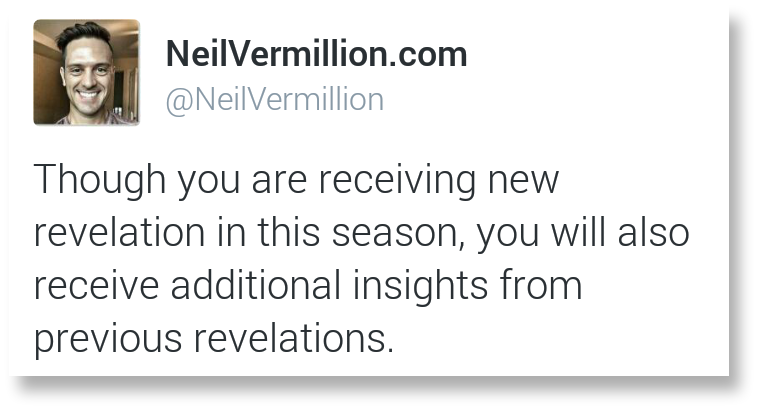 In this time of receiving new revelation know you will also be receiving greater clarity and understanding from previous revelation too. For this is a time to receive, but it is also a time to implement, and activate.. It's a time to initiate what you've already been given. So as you put things into motion, and begin to move forward in what I have called you to accomplish, understand you will also receive greater insights into the details and timing from visions and revelations of old.
For this is a season of activation. And in this season you will launch forward with what you have been already given, things you've acquired and collected from years past. But you will also gain greater clarity, greater focus, greater perspective and understanding too. For it is my desire that you move and advance with precision and excellence. It is my desire for you to move and advance with understanding. It is my desire for you to succeed in the endeavors I have placed upon your heart. It is my desire that you prosper from the work you put to your hands.
So as you do your part, I will also do my part. And as you continue to follow, surely I will lead and guide. I will open doors of opportunity, but I will also open additional revelation and clarity and understanding too. So though you are receiving freshly in this season, also know you will receive additional insights from previous revelations. I will add to what you've already been given. Not everything you are receiving in this moment, is for something new, but will be added to what I have already given you.
So continue to sit and receive from me. Continue to stretch your hands out toward me. You will see and experience my provision for you. You will see and experience my power and my hand. You will see and experience my plans for you, both in the broad perspective as well as the detailed perspective too.