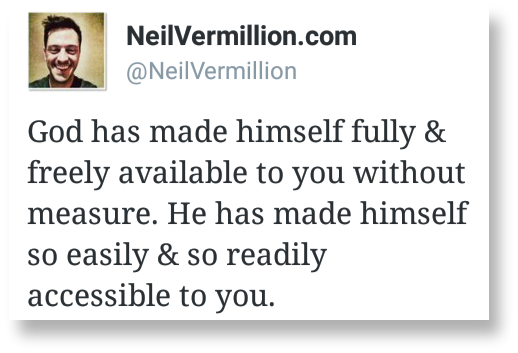 My heart's desire for you is so beyond your ability to comprehend, measure, or contain. My desire and unending passion for you is an ocean that could fill the entire universe and even more. And it is from this source of love, passion, and desire for you I sent my son. I have joined myself to you. I have restored the breach and reconciled the world to myself once again.
And this great mystery will be contemplated for all of eternity as you marvel the beauty, awe, and amazement of what I have done on your behalf, my Dearly Beloved Ones. For my heart's desire for union with you has inspired these things, and I have demonstrated my great love for you, that even while you were against me I died for you. I knew you could not make it on your own, so I willingly, lovingly came to restore our relationship together.
So if I am willing to do this great demonstration of my love for you, how much more will I also be willing to give to you? For you see, my generosity knows no bounds. My extravagance has no equal. My riches are not limited, for everything is mine. All is mine. All things were created by me, and in me they are all continually held together. So what could hold me back? What could stop me? Who could restrain my hand? Who could block, hinder, or derail my plans? Who could ever separate you from my love?
But in your heart you doubt. In your heart you fear. In your experience of pain, distraction, and imperfection you filter truth incompletely and inaccurately. But I understand this, and I have bridged that gap on your behalf so no limits will continue to hold you back.
For I have made myself fully, and freely, available to you without measure. I have made myself so easily, so readily, accessible to you. All you have to do is drink. All you have to do is realize and recognize, embrace and receive, for it has all been done for you already.