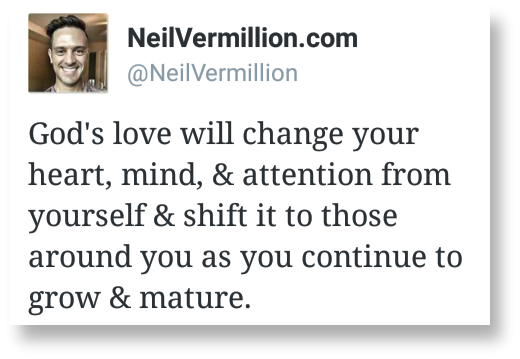 And as you sit with me day after day and allow me to console and comfort you, your heart will be changed. And this is no small thing for in this transformation your entire course will be altered and you will no longer continue in the same direction as before.
You will be renewed. You will be encouraged. You will be empowered, able to help those around you, no longer consumed with your own cares and concerns.
For as you experience contentment and satisfaction in me you will be excited to understand you have been empowered to meet the needs of your brothers and sisters around about you. And this understanding will shape and shift you for you will see yourself and your contribution with greater clarity, having greater perspective than days before. And this clarity and perspective will bring fresh air to you as you love and minister to those around about you, abiding from union together in comfort, satisfaction, and contentment.
You will see and understand how we are all one, all united, all one body working together, living together, abiding together in unity, love, and harmony. And your mind will be changed, and your heart will be changed, and your focus will turn from yourself as when you were a child, and turn to those around about you as you continually assume the place of maturity laid out before you.
In this understanding you will see the beauty, worth, and value of all the people I've placed in your life, and you will be moved with compassion to love them, just as I have loved you. And in this love you will experience how it is truly better to give than to receive, for in your giving your joy will come full circle and you will have tasted of satisfaction from a place of greater maturity, rather than remaining incomplete and undeveloped.
And I will guide you and I will govern you, and you will find the center of my will for you. You will find the purpose and full expression of all the desires placed deep within you since before the beginning. And it will all make sense and you will grow in understanding.