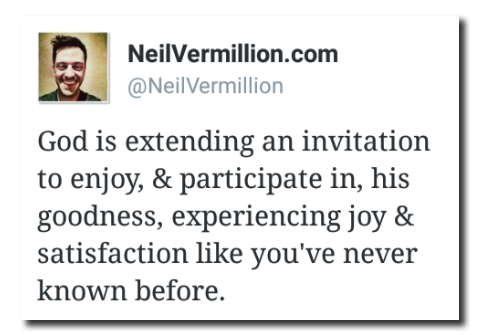 Let me assure you, all who are hungry will be fed. All who are thirsty will receive their fill. For it is my heart to provide, and it is my heart to reveal. There is no good thing I will withhold from you. And though you search, and fret, and worry, and strive, what good does it do you? Come to me you who find yourself weary and tired from the cares of this life. For I will give you peace. I will give you strength. I will give you hope. I will give you my love and the fellowship of my heart together with you.
And you will find satisfaction in me. You will find contentment in me. You will discover your identity, your purpose, your future, as well as reconciliation of your past, in me. For apart from me you can do nothing, but sometimes it takes time for you to learn and discover this. But as you humble yourself, and come to me, know that I will not turn you away. I will not be harsh with you. I will not cast the spotlight of shame and scrutiny upon you to humiliate or embarrass you.
I will take you close to me. I will restore you. I will embrace you. I will adopt you as my own. And you will be moved to that place of love, respect, and honor. For these are my desires, to bestow all these things upon you. It is my desire to fulfill you in every way imaginable, and satisfy your greatest, deepest desires.
I will not frustrate you, but will satisfy you. I will bring you to that place of total harmony, total satisfaction, and you will lack nothing. You will be amazed, and you will marvel at my goodness. You will be left in awe, unable to speak as it all unfolds before you.
You will be dazzled by my splendor, and wonder why you ever sought after other gods. You will be saturated with my presence, and experience fulness of joy like you've never known. And it will happen again and again, day after day. You will abide in this place of love, wholeness, protection, and satisfaction with no end.
So come to me now, and do not delay. Do not hesitate. Come to me all who are tired, and hungry, and weak. For I will satisfy you in every way, even beyond what you are able to conceive or imagine. And it will be my delight to do so.