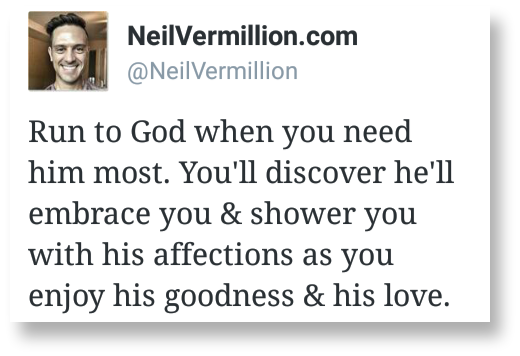 As you take your hurts, your fears, your worries and concerns to me you will find I will not turn you away. I will not reject you or condemn you, but will embrace, acknowledge, and accept you. And in this loving acceptance you will find I will not turn you away, even in your shame and mistakes, but will welcome you with arms wide open. And I will receive you and you will discover we will overcome all these things together.
For there is nothing so great we cannot overcome it together. There is no obstacle too great, no adversary too strong, no opposition too powerful we cannot overcome it in our union together. So as you find yourself in your greatest need come to me and you will find I will not reject you, will not turn you away, but will accept you and welcome you into my embrace. And you will be reminded of our union together and the victory that's already been given you in all things.
For within you there is a desire to want to conquer on your own. There is a desire for independence. There is a plan conceived, not in union together but independent from me, excluding me, abandoning me. But you will find that in your choices you are free to choose, but the choosing of your plans independent of me will not bring about the best for you.
And over the course of time you will come to see, trust, and rely on the plans I have for you. For my plans, my will, my way for you will cause you to thrive and to prosper in greater degree than what you have planned for yourself Though you have a plan, you see partially and incompletely. So allow yourself to join with me and follow my leadership in all things, and you will find I have already solved problems you are not even aware of yet. My plans will take you to realms you could not imagine, to places you could not discover on your own. And you will grow in your trust and will learn to let go of your limited thinking and independent habits.
So when you feel you need me most come to me. Do not hide from me. Do not run away from me, but come to me. I will embrace you and shower you with my love and affections and you will realize the goodness of the plans I have for you. Come to me, and we will abide together as one in perfect union and harmony, in all your ways for all your days.