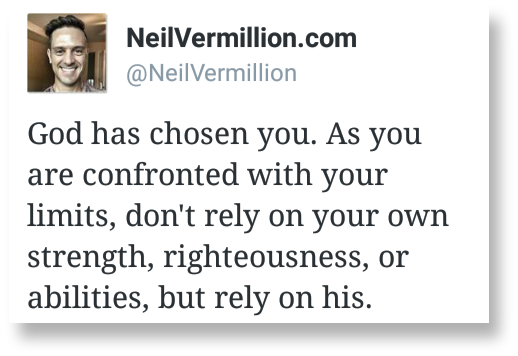 For though you find yourself as weak, though you find yourself as incapable, though you find yourself as small and even foolish understand these are the very things I have chosen to work within you. Is it not written I have chosen the foolish things in this world to confound and even shame the wise? Have I not chosen the weak in order to shame the strong? Have I not chosen the lowly and despised? As you find yourself confronted with your limits, understand you did not choose me, but I have chosen you. So do not look to your own strength, your own righteousness, your own abilities, but rather look to me.
Put your trust in me, in who I am, in my plans for you. For I have chosen these things in order that no one will have any room to boast, except in Jesus and him crucified. For is it my good pleasure to preserve and protect you, to uphold you, to rescue and redeem you. And with all this in mind, do not allow yourself to become discouraged as you see yourself as unqualified. For my purpose and my plans for you were never based upon your own qualifications or abilities to begin with. Your strength, your wisdom or intellect, your righteousness was never part of the equation.
So while this may be a bitter perspective for you to embrace, doing so will liberate you not from the burden of self-salvation, but from the burden having to help me accomplish my plans, as if I would ever need your help. So embrace the reality of your limits and understand this will in no way diminish my love for you. It will in no way diminish my plans for you, for my plans were never built upon your performance. And as you embrace this your heart will be set free to drink of the joy and freedom I've already given you with no worries, cares, concerns, or hindrances.
Embrace who you are, who I've made you to be, who you are in the union of our fellowship together, and you will find joy unspeakable, peace immeasurable, contentment and satisfaction beyond your comprehension. Do not esteem yourself as disqualified because of your limits, but embrace yourself in the realization of who you are in me, recognizing your limits as you boast in the work accomplished by my son, for he is your righteousness, holiness, and redemption. Rest in the confidence in knowing I have chosen you already.