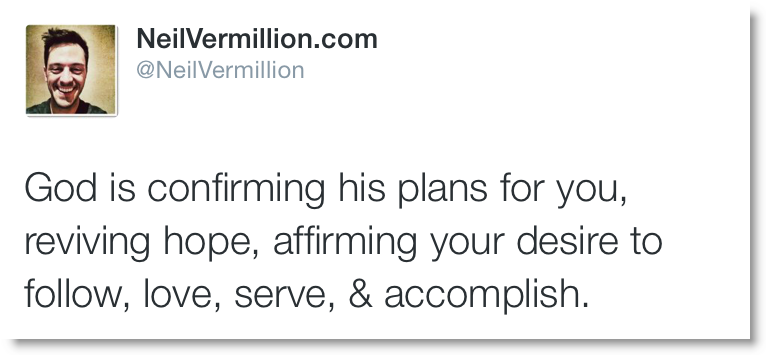 Today I am confirming my plans for you. For many of you it has been a long time, and it feels as though little or no progress has been made. So I am taking this moment today to confirm my plans for you, so you will not grow weary.
My plans for you have not altered. They've not changed. They've not wavered. They've not diminished. So continue to hold tight to what I've already given you, and fan into the flame that fire for the vision within you. For I gave you this vision in advance to help guide you, to help sustain you, to help you endure and persevere.
So take a moment to encourage yourself. Remember my still, small voice that has already spoken to you, has already watered that seed within you that has now begun to take root. Remember your joy, hope, and enthusiasm the same as the day that spark first started. For the delay has surprised you.
And the cost has surprised you. But neither the delay, nor the cost, has surprised me, for I have seen all these things, and even more, since before the beginning. So don't allow yourself to be downcast or discouraged, for I am with you still, just as I always have been, and always will be.
I am confirming my original plans for you, reviving your original hope, affirming your original desire to follow, love, serve, and accomplish.
These are the days of moving forward, in spite of perceived setbacks, in spite of perceived losses, in spite of perceived mistakes. For I will redeem all that's been lost and stolen. I will restore and redeem the years eaten by the caterpillar and locusts. I will cause the purpose within you to succeed, and you will accomplish all I have set before you, according to my plan, and according to my timing.
When it is all said and done, you will look back and reflect and understand how I have worked with you from the very beginning. You will see how my hand has always been upon you. The memories of dark times will seem bright, and your memories of hardship will spawn gratitude. The memories of time spent waiting will taste sweet, and the memories of mistakes you made will smell like a savory aroma, a delight to you.
For you will see it all, and understand it all, from my perspective as I continue to reveal it to you. And you will see, and you will know, and your heart will be free to live and to love.
You will follow me, and come to know me. And as you do, you'll no longer doubt. You'll no longer fear. You'll no longer hesitate, nor continue in your double-minded ways. For my spirit of love will cast out all that fear, and you'll be single-minded, stable in all your ways.
Click here to share this with your friends on Twitter.