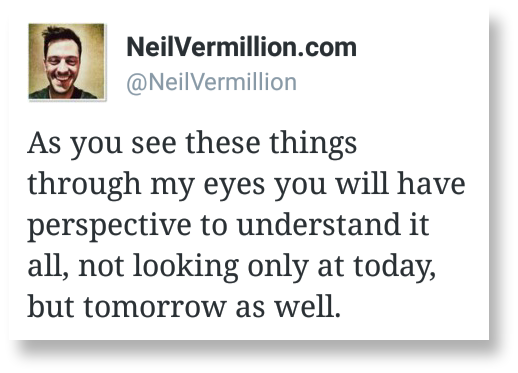 For those who have come to know me the days of confusion will not be confusing. For those who remain close to my side, who have taken time to know me, to love me, to follow me, the darkest days will not be dark at all. For my perspective will invade yours, and you will see things as I see them. I will give you my eyes, and I will give you my understanding, and you will see and know and understand not only the events, but the meaning behind the events too. And your heart will reside in peace and security though all hell will be breaking loose around about
you.
For you will walk forward and see your neighbor struck down. You will walk further and see your great institutions, the things in which you have placed all your trust, laid to waste in a pile of rubble. And you will look to the sky and see darkness on every side, and sunlight will be a memory. But as you see these things through my eyes, with my understanding, you will have a perspective to be able to understand the process of it all, not looking only at today, but at tomorrow as well.
And when you see today in the light of tomorrow, your heart will not grow weary. When you understand the necessity and urgency of the hour, your heart will not be heavy but will be alive with joy, excitement, and anticipation. For surely these days are coming, and have even already begun, but these days will have different meaning for those with understanding. And these days, though dark in their external appearance, will spawn life eternal. For hearts will be awakened, and many will embrace the good news who otherwise would not have done so.
Click here to share this with your friends on Twitter.