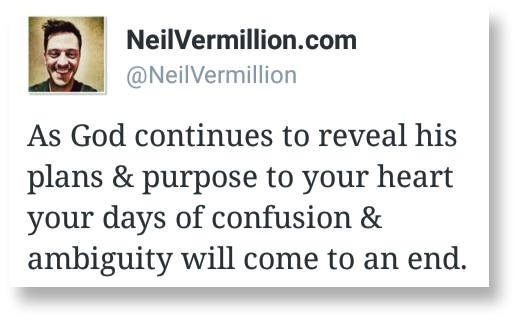 Times of greater clarity as upon you. As you continue to move forward in pursuit of what I've placed before you your understanding will increase and your vision will become clearer and clearer. You're going to be able to see things further into the future, and you're going to be able to discern more quickly, more accurately. And while you will still have to walk by faith, not always knowing exactly how or when everything is going to work out, you're going to have a clear perspective and you'll know how things will develop before they fully do.
And so the days of confusion and ambiguity will be draw to a close. You'll walk in solidarity, confidence, and boldness, knowing who you are and what you've been called to do. You'll understand your assignment and you'll also understand how to accomplish it. And details that have held you back in the past will no longer hold you back, for you will see the end and understand with clarity what you are to do. And so you will be able to find solutions to details that have previously prevented you from moving forward.
You will be focused. You will be sure. You will be confident, knowing I am with you, and knowing you have been charged and assigned according to my will and my plans for you. You will not be swayed by circumstances or doubt as you were in days past. You will not be timid as in days past. You will not procrastinate as you have in the past. For the urgency of the day will motivate you to move forward and accomplish the work set before you.
And you will succeed though there will still be very much struggle, sacrifice, and effort required of you. Even still, you will succeed, and the victory will taste ever so sweet as you taste and see and experience the goodness of my plans for you. For I have called you out. I have chosen you. I have assigned you. I have commissioned you. For you did not choose me, but I have chosen you.