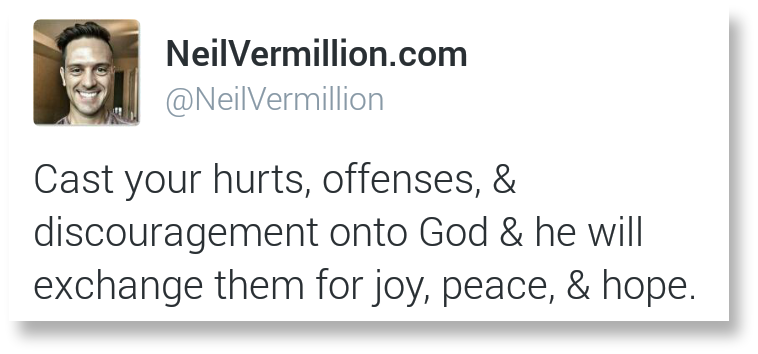 Though it seems as you are progressing slowly, understand this is only one perspective. Though you feel you're making no headway, even moving backwards at times, know this is only your perspective. And though you desire to do the right thing, you do not always have sufficient perspective to be able to know what that right thing is. So allow yourself the liberty to be free and to follow completely, doing the best you can from moment to moment. Do not be tempted to carry the burden of total revelation yourself.
I will show you what you need. I will give you the pieces required. I will guide you and encourage you every step of the way. So cast your vision and understanding on to me, and I will renew you. Cast your heaviness on to me and I will restore your heart. Cast your hurts, offenses, and discouragement onto me and I will exchange them for my joy, peace, and hope. And my hope will not disappoint you, for I will pour out my spirit upon you in full, and your weakness will be washed away.
And as you cast all these things on to me you will realize you are abiding in truth, the truth of who you are, who I am, and who we are together. You will be encouraged and your hope will be strengthened. So do not delay in discarding your imaginations. Do not delay in laying down your burdens. For as you do you will find not only the revelation and understanding you so desperately desire and need, but you will also find your strength, joy and happiness too.
For in our presence together all these things will be given you and even more. All these things will be bestowed upon you, again and again, without end. And though you sometimes know this in your mind, experiencing this truth in your heart will sustain you. Allow me to encourage you. Be quick to discard your burdens and allow me to carry them. Allow me to embrace you, and you will experience my love even in the darkest, most vulnerable regions of your own heart.