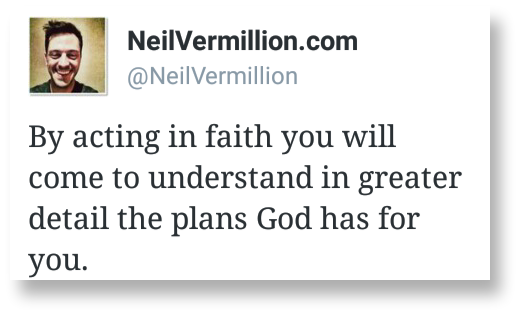 Your deficiencies will not disqualify you. Your inability will not prevent the accomplishment of my will in your life. For my plans were never dependent upon your strength, ability, or effort to begin with.
There are so many directions in which you could move. There are so many ways you could progress. So do not allow confusion to hinder you. For I will honor your faith as you step forward doing the best you can, with what you have at this time.
I know there is confusion in your heart. I know there is confusion in your mind. But it is in the stepping that you will actually come to understand in greater measure the details of the plans I have for you.
And you wonder, and wrestle, and struggle, and doubt. And you look all around about you on every side in search for the thing set right before your eyes. And it makes no sense to you, and you do not recognize or perceive it, so you continue your quest, in search of that which you already possess. So allow me to calm your mind. Allow me to calm your nerves. For the resistance against you will hit you wherever possible. He will strike where you are most vulnerable, if you allow him.
So do not lean on your own understanding. Do not make yourself the savior of your own life. Do not carry the burden you were not meant to carry. For it will weigh you down and tire you out, and in your own strength you will not be able to continue or sustain for the long term. But my yoke is easy for you. If you will make yourself small, and allow yourself to be like a child, to think like a child, to act like a child, to love like a child, you will find just how easy it really is.
And you are so tired already – tired enough to last a lifetime. So I am encouraging you today to choose the path of life I have for you. Choose the path of abiding in me and resting in me. For in this place you will experience the joy and peace and freedom I have in store for you. I will make myself known to you and you will come to know me face to face, and heart to heart.