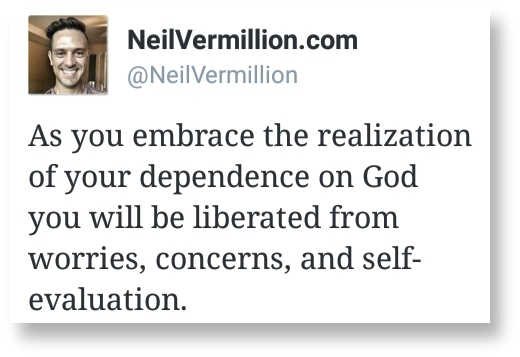 For in your limits you will encounter the edge of yourself. But in this edge you will also discover where I begin. As you encounter your limits you will also begin to encounter me. So as you feel yourself being drawn and lead to the edge of yourself, to your very limits, do not shrink back from this. Do not hide yourself from the limits set before you, for in facing, confronting, and acknowledging your limits you will also discover your dependence on me.
And while you may not be inclined to move towards this dependence on me, understand you are dependent regardless if you realize it or not. So allow yourself the freedom to realize your dependence with courage. Face it with boldness and confidence. Face it without hesitation, for as you embrace the realization of your dependence on me you will be liberated from your own worries, concerns, and self-evaluation.
For you will know I am your source. You will know I am your strength. You will know I am your guidance, your shepherd, the one who steers, directs, and governs. And with this realization you will be free to enjoy yourself and your circumstances knowing I will certainly take care of you in every way. And while there may seem to be a gap in the fruition of what has been set in your mind and in your heart, understand all these things revealed to you and given you by my spirit will surely come to pass in due season.
And you will be aligned and you will be organized, and in your heart you will abide in peace in spite of difficulties, resistance, or confusion surrounding you. For my spirit will speak to you and comfort you. And with this union together by my spirit your peace will not be dependent upon circumstances, but rather your peace will transcend all these temporal things, spawning from the place that is eternal.
So my Dear Ones, come to me with boldness and confidence, knowing I will by no means turn you away. I will not reject you. I will not shame or condemn you, but will embrace you. I will receive you, acknowledge you, honor you, and welcome you in. I will open my heart to you and you will come to know me so closely, so very personally, so intimately if you will receive what I have for you.
So as you find yourself at your edge, at the place of your limits, do not be afraid to cross that line and step into the realm of the unknown. Do not hesitate to step past what you are able to perceive. For in this place you will more fully realize your dependence on me as you walk in faith, embracing my leadership in your life, now, and forever more.