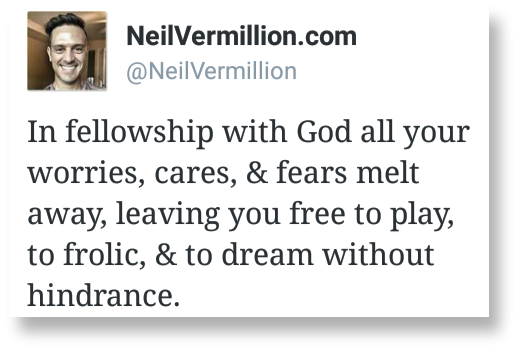 Enter into my rest, my Dear One. For in fellowship with me all your worries, cares, and fears will melt away. In union with me you will be free to play, free to frolic, free to dream without hindrance. So enter into my rest and put your trust in me. For my plans for you will prosper you. My plans for you will satisfy you. My plans for you will bring you to the fullness of your potential and you will come to the manifestation and realization of who you are in me.
And in this awareness you will move forward more rapidly, more surely, more securely, more accurately. For you will see your path, and you will know your steps – each step, one by one – and you will know the pace at which you are traveling. And with this understanding and awareness you will be able to move forward in all I've put before you in grace and passion. For my heart's desires will guide you into the path not only of your destiny and purpose, but of your fulfillment and satisfaction too.
For my plans will delight you like nothing else. My will for your life will satisfy you like nothing else. The relationships I will bring to you will satisfy you and bless you like nothing else. And you will taste and see my goodness and you will wonder why you ever wanted to roam away from me in the first place.
For I will draw you to my side, and we will sit together in perfect fellowship. And I will look at you, and you will will look at me, and we will know each other face to face, personally, intimately.
All this knowing, all this satisfaction, all this revelation of purpose, identity, and destiny will be spawned from our union together as you enter my rest. For my yoke is easy, and so delightful. You will not be tired, or exhausted, but will be renewed, restored, and recharged.
My rest will invigorate you. My rest will inspire you. My rest will heal you. My rest will enable communion together, and you will know you are abiding in me, and I in you.
So enter my rest, my Dear One, and know you never have to leave. For my love for you will never be consumed, never be exhausted, never run dry. And as you drink deeply again and again, you will enjoy the glory and the joy of my rest, in spite of the paradoxes you may in encounter from time to time. My rest will be your haven and you will abide, and grow, and flourish, all the days of your life.