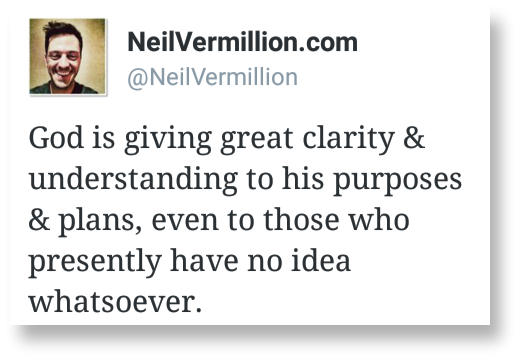 I am expanding your current vision. For what you have seen in the past was right and good, but it was incomplete. What you saw in the past helped you, it guided you, it served its purpose. But the time has come to expand what you've seen, to build upon it, and increase that vision, revealing more details and increasing your understanding about it as well.
For some of you your vision is sometimes clouded, and so you see, but you do so as in a fog, and with this foggy vision comes confusion and apprehension at times. But I am moving you past this fogginess, moving you to the place of greater clarity, seeing things in right focus. And from here you will have more confidence as you possess greater assurance and understanding. For my plans will be not only revealed, but also confirmed as you see them more and more clearly day by day.
And yet for some there are times when your sight is not the problem. You see clearly but do not understand what you are seeing. And for these I will continue to reveal my purposes and my plans too. I will continue to remind you of what I've already spoken to your heart as well as continue to bring about new understanding for what I am showing and revealing to you. And so for you, though you see perfectly, I will continue to bring you to the place of greater understanding so you will no longer be confused or perplexed by what you see. I will help make sense of it for you.
And still, there are those whose understanding is clouded. You cannot clearly see what I show you, nor can you understand what it means. And even to you I will reveal my heart, and my purposes, and my plans. I will make my mysteries known even to those whose lack vision (those who have not taken time to cultivate and develop it) and those who have no understanding at all. For it is my heart's desire to share all these things with you, My Beloved. My heart desires for us to be in great union together and so I will reveal my purposes and my plans for you at the right time, even for those who presently have no understanding at all.
So understand, in these days as you see your vision and understanding shifting, changing, adjusting, expanding I am doing these things. For I am making it possible for you to understand and cooperate with all I am doing. I am helping to make your path clear and simple. I am blazing a trail of greater unity together in me, so we can walk this path together every step of the way.