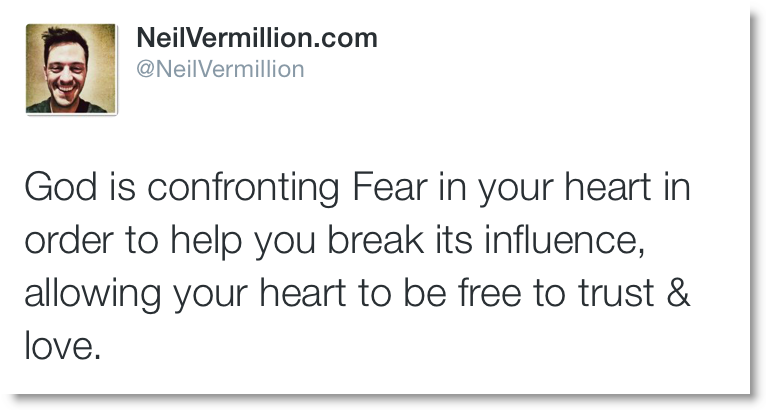 Today I am shedding light upon the Fear in your heart. For though you know me, you still hold on to the Fear that is so familiar. Your eyes see the giants in the land, and you think to yourself, "we are but grasshoppers in their eyes." I see your heart, and I see your desire to follow and obey, but I also see Fear within you as well, though you do not always see it within yourself.
So understand, I am going to confront Fear within you. I am going to bring it to your awareness and you will face these issues. Fear has to do with torment, trouble, doubt, and believing in what is false. So you will have to face the roots and issues of your fear, but we will do it together. We will not leave anything out, but will take things one by one, and examine them and examine your heart. And as the issues of your heart become bare before your own eyes, you will see and you will know. And as you come to know, you will be set free, and Fear will no longer have hold on your life, stealing your full potential from you.
For many times you've been robbed. You've given up too easily in the face of opposition, in your times of struggle. Fear has trained you, and because you've been so accustomed to following it, you've followed that training.
But we will break those habits. We will break those mindsets. We will break that training, for you have already been set free by the work of my son. For in the days ahead of you, your path will require you to not only face Fear, but overcome it as you stand against opposition. And you will no longer be robbed of fullness, for you will walk in victory over all these things that you fear.
And when you will look back and see your growth you will be confident in the God Who Loves You. You will see your progress and you will trust me. And as you trust, your heart will also grow in my love and you will know I love you, and I have the very best in store for you.
Click here to share this with your friends on Twitter.