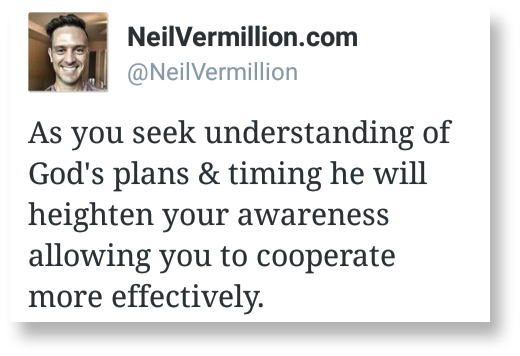 There is so much abundance in store for you. And while there is a timing to many things being released, activated, and matured in your life, there is a great anticipation of it coming. But do not allow yourself to remain stuck in the future, always anticipating what is yet to come, missing out on what already is. For I have already done much within you. I have already made much available to you. I have already accomplished so much, and there is no longer any need to wait, hesitate or delay.
For as you continue to step forward in what I've placed before you today more will be revealed. For it is in the pursuit of the first item, the second item will be revealed. And if you do not step towards the first item, moving towards its pursuit and accomplishment, you will not discover the second item. And in many ways you settle for too little, not advancing when you should and holding back when you should advance. And this you do not do in rebellion, but in ignorance because you are unaware.
So continue to sit with me, and I will heighten your awareness. I will increase your sensitivity and receptivity, and you will no longer remain unaware. And with your heightened awareness you will no longer continue to settle for less. You will no longer continue to settle for too little, and you will know the right times to advance and cover new ground and expand your territory.
So do not hesitate to seek me, to seek my face, to seek my plans, to seek my will for your life, and to seek my timing regarding all things. For if you will seek, you will surely find. I will not frustrate you endlessly, but will open up your understanding to make it plain and clear so you will be able to understand and rightly align yourself with timing, purpose, and season. And in this alignment you will be able to position yourself in unity and cooperate in my plans and in my timing, allowing you to capitalize on the right events, the right activities, with the right people, and at the right time.