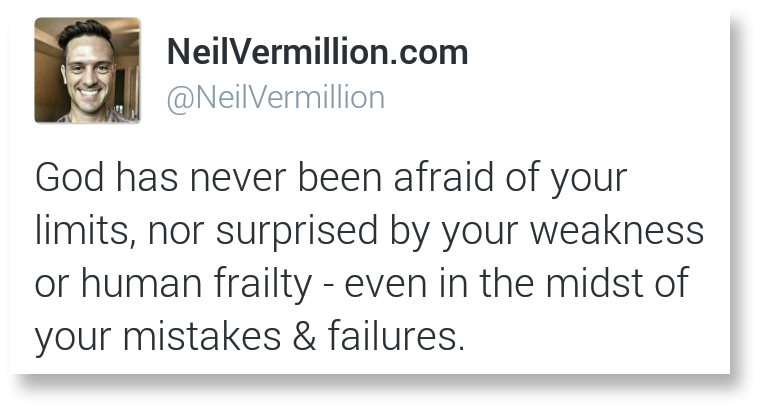 Even in your frailty, in your weakness, in your limits I am with you even still, for I will never leave you. You look to yourself for answers, and you look to yourself for provision, and you look to yourself expecting permanent solutions. But in me you find all these things, and more. In me you will find all you seek. In me you will find your answers. In me you will find your provision. In me you will find your strength and capacity. In me you will find fulness of joy, and you will come to know my loving acceptance for you in all things.
For you are not disqualified in my sight. I have never been afraid of your limits. I've never been surprised by your weakness or human frailty. I have never been disappointed in you – even when you made terrible mistakes and failures. For I have known your beginnings, and I have known your finish. I have seen where you are, I have seen where you are going, and I have seen where you have come from. And from this perspective I will always be available to you. Even in the midst of your stress, your struggles, your failures, your weaknesses, and your limits I will be with you still.
So when you are encountering your limits, and when you are experiencing your weakness do not hide yourself from me. Instead of hiding run to me. For I will embrace you. I will refresh you. You will experience my loving, unconditional acceptance as I renew and restore you. You will know I am with you, and will forget your fears, worries, and concerns as you soak in the presence of my perfect love.
Remember this: there is no mistake so great I cannot repair it. There is no error so great I cannot redeem it. There is no limit I cannot overcome – even your own humanity. So come before me. Abide with me and we will sup together as we enjoy the presence of my glory and the delight of our fellowship and union together. Sit with me and share your experience with me, even the experience of the limits and weaknesses of your humanity.
Click here to share this with your friends on Twitter.