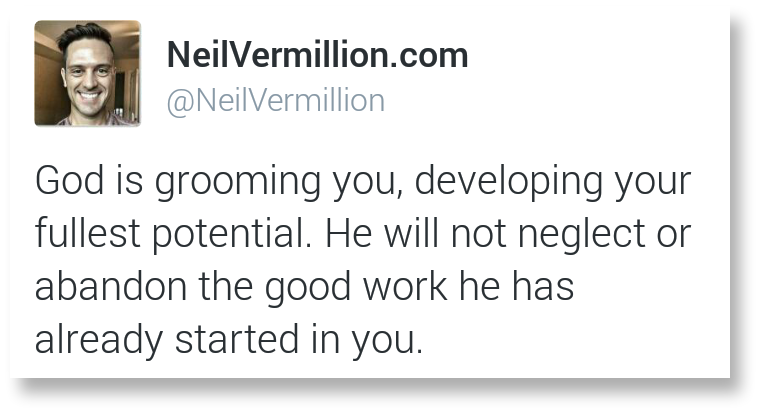 Surely this present season is a time of moving forward and taking new ground, advancing in the things I've called you to possess. Yet even still it is a day of pruning for many. While I am advancing many, and adding depth and wisdom and perspective to many, I am also pruning as well. This day many find themselves taking the next step of their advancement, while others seem to be holding still, feeling left behind. But understand, this is a day of many things being worked in you, and through you. Everyone has not been given the same schedule.
Many have left their Winter season, their time of wilderness, their time of preparation and are now beginning to walk in the field of their call. But also, many in this present day are experiencing pruning in their life. And with this pruning, though painful and uncomfortable, will come even greater fruitfulness.
So embrace my pruning as best you can. Understand and cooperate with it so you will not be discouraged. Understand where you are, and understand my heart and my plans for you. My long term plans will spawn hope that will sustain you. My long term objectives will bless you. But if you only see tomorrow you will miss out on today. So open your eyes to see what is before you today. Open your ears to hear the music of today, and allow me to whisper secrets in your ear.
Embrace this day for what it has for you, and you will do well. Embrace the season of letting go, the season of delays and seeming failures. For in this I am dealing with you in my loving kindness, in my tender mercies, in my never-ending love and commitment to you. Though it feels harsh, though it feels painful, even like death, understand it is but temporary. Understand it is but a pruning. It is a pruning from one who loves you, causing you to grow to your fullness, so you will be even more fruitful.
And while you may not enjoy the experience of pruning you will most certainly enjoy its results. You will not enjoy the discomfort, but you will most definitely enjoy the freedom you embody in your liberation from that which has its hold on you. And with all these things in mind I am calling out to you, in your present situation, in your present circumstance to follow my voice, and understand I am leading you and guiding you where you need to go.
I will direct you and develop you. I will groom you and prepare you to be the person I've created you to be, for I have the end in mind. I have put my hand upon you, and I will not remove it. I have started a good work in your life, a process that will cause you to grow, and develop, and flourish, and I will not abandon it. I will not forsake the good thing already started in you, but will remain faithful, watching you and working with you until all is complete.