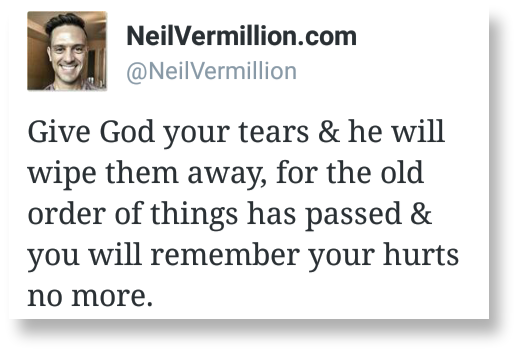 For as you enter into my rest I will turn your tears of fear, heartache, and disappointment into tears of laughter, joy, and amazement. For my goodness is greater than your heartache. My redemption is greater than your disappointment. My love is greater than your fear. And all these little things will be swept away, remembered no more as you encounter me again and again in the place of my rest.
So consider all your tears, and consider what caused them, and bring them to me. For these things will be remembered no more. If you will surrender them to me, and hold on to them no longer, I will take them from you and remove them. I will remove the sting. I will remove the knife. I will remove the hurt and allow you to heal and be made whole. I will show you the beauty of my redemption, and you will come to know in greater measure what my son has done for you. You will come to know his great love for you, and how he has renewed all things.
So bring all your hurts, your disappointments, your heartaches, and all the things that cause you tears and give them to me. Give me your tears and I will wipe them away, for the old order of things has passed and you will remember your hurts no more.
I will exchange your tears for laughter. I will exchange your disappointments for renewed hope. I will exchange heartache for joy and laughter, and you will taste my goodness and be satisfied – yes, even more than you thought possible.