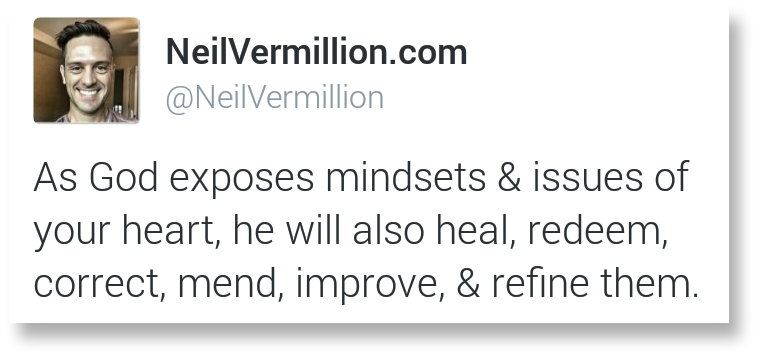 For I am shaking things within you. I am revealing issues, heartaches, and emotions that are active and fully alive within you. I am revealing these things, but I am also bringing about redemption, restoration, and correction too. I am not revealing all this for the sake of revelation, but rather for a specific outcome to be accomplished. So understand, even this day, as you find yourself confronted with certain mindsets, this is my doing and it is for your ultimate liberation.
As I expose I will also heal. As I expose I will also redeem. As I expose I will also correct. As I expose I will also mend and improve and refine. So as you feel you are being pressed, even crushed, in your present circumstances, also take a moment to make sure you are listening.
Even though you feel the pressure of today, make sure your eyes are open. Even in the middle of your pressure, make sure your ears are open. Make sure your heart is open for in your openness you will receive, and the pressures of the day will not stop, nor block, what I am saying, giving, and revealing to you.
And when you receive my message in these moments be slow to discard what I am saying to you. For what I speak regarding these matters will be quite contrary to your present way of doing things. It will be quite contrary to your present way of thinking and feeling – which is the very reason I am exposing and confronting these issues and mindsets. Understand, as I am speaking to you in these settings it may not "feel" right. It may not make sense to your rational, natural thinking. It may not line up with your preconceived notions and ideas.
So remain open, and continue to embrace and accept what I reveal to you. For as you do, you will enter and abide in the abundance I have in store for you. You will enter the green pastures. You will lie down beside the still waters. And you will be effective, as you are able to rightly discard things hindering you and holding you back.
These are my plans for you, My Beloved. These are my plans to liberate you, to set you free, to allow you to realize, embody, and possess the fullness of who I've created you to be, and to accomplish the destiny placed within you.