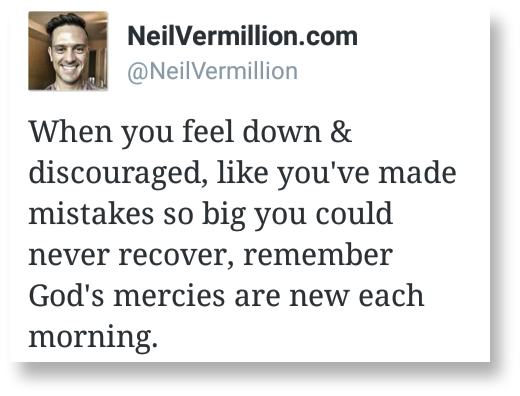 For there are so many starting points available to you. And time and time again you see yourself as having failed, having missed your opportunity, having no way to recover. But as you see things from my perspective you will understand you have one opportunity after the other to start again. You can start day after day, hour after hour, even minute after minute. So when you feel down, and discouraged, and that you have made mistakes so big you could never recover, remember my mercies are made new for you each and every morning. There is no need to wait or hesitate to start over again.
So move forward in confidence and boldness knowing there is provision for your mistakes. Understand there is no mistake so big that I could not undo it. There is no calamity so great I could not overcome it. There is nothing so big, so powerful, so permanent that it hasn't already been accounted for and taken care of. For my work on the cross has already undone all that mess. And this work has been finished, even though it does not always appear so from your perspective.
But as you sit before me, and gaze upon my beauty, and drink from the fountain of my knowledge, you will begin to see from my perspective more and more. And you will be able to understand, and you will be able to conceive. And you will see things afresh, from a new angle. And from this new angle you will begin to see your mistakes as being smaller. You will see your trials as being so very brief. You will see your hardships as being so very temporary and even miniscule.
But this perspective does not come from delusion or denial. It is not birthed from a place of denying your present reality or circumstances, but rather comes from revelation and comparison. For as you begin to grasp and understand the revelation of has been accomplished on the cross and you see this revelation from a timeless, eternal perspective you will not see your present reality or circumstances the same. When you compare, not only what lies ahead of you in your future but, what you have been given in this very moment through the union of my spirit with you, and the regeneration given you from the Second Adam, your present reality will no longer look the same.
For there is such a great hope within you, even today. So as you see your failures, your blunders, your mistakes, your shame, look to the cross as the symbol of not only your future, but of your present reality as well. For in this present reality you have been granted so very much, there is no need to be discouraged, downtrodden, fearful, or ashamed.