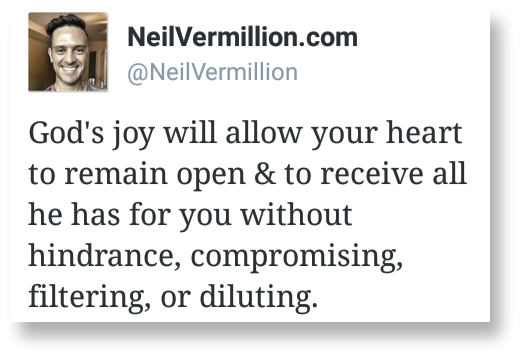 My joy will go before you. My joy will open your heart. My joy will speak to you, and you will find rest, protection, and recuperation in the midst of my joy. For my joy will sustain you. My joy will invigorate you. My joy will be a gift and a blessing to you, but it will also be essential to you as well. My joy will be crucial and imperative and will become your greatest delight. And for this reason you will accept no substitute, but will grow in your insistence of experiencing my joy.
And my joy will empower you to dream. And you will look to your own hands and see your limits, but as you experience my joy your heart will also conceive my plans for you, my vision for you, my hope and provision for you, and you will laugh at your limits time and time again. For all these things were chosen for my good pleasure, and all these things will be revealed over the course of time, in their due season.
So as you see the path marked before you, and you encounter your enemies, remember my joy. For my joy will sustain you, empower you, propel you, encourage you, and even protect you. And my joy will confound your mind. It will contradict conventional wisdom. It will break open boundaries of the norms and will inspire innovation and activation. My joy will move you to take action and spawn new life, new hope, new accomplishment as you continue to reside in the security of my joy.
For you will dream recklessly as you bathe in my joy. You will forget how to be "practical". You will forget how to be "reasonable". For my joy will inspire you to dream without limits. And in this place of security, centered in my joy, you will receive the gratuitous vision and realization of what I have for you, and who you are in me. For my joy will allow your heart to remain open and to receive without hindrance, without compromising, without filtering, without diluting. And you will hear from me clearly, and receive all I have for you in new measure, without compromise, and even more so than you have in days past.