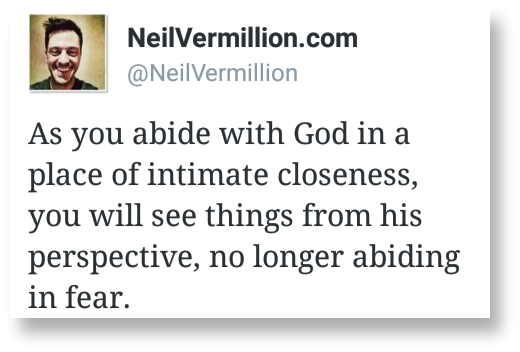 As we continue to abide together in my closeness, I will help you strip away the habit of fear. For my perfect love for you will give you the lens able to see the truth. And with this perspective, this lens, of truth you will understand there is no need for fear, there is no need to be tormented. You have no reason to fear any person, any event, any idea, any loss, or anything else.
For in me you will have all you need. And in me you will see the truth, and know the truth, and follow the truth. And this truth will set you free, and you will no longer need to wrestle back and forth with fear. For the lens through which you will view the world, view yourself, view me, and view others, will allow you to see the beauty of who I am.
For in me you will lack nothing. In me you have no concern for harm, no concern for hurt, no concern for loss. For I am more than sufficient. And as you abide with me in my closeness you will come to understand this truth, and you will be set free from the habit of fear.
And as a result of your freedom, you will walk in boldness, confidence, faith, trusting each step of the way. You will understand who I am. You will understand my plans for you. You will understand with perspective the obstacles set before you, and you will see them as small. Your obstacles will no longer continue to hinder you. Your failures of the past will no longer continue to haunt you.
And with this perspective of truth, you will be set free to pursue and accomplish all I've marked out before you. You will be the person I've created you to be. You will accomplish the plans I've assigned to you. And you will do so with freedom and with joy. For we will do all these things together, as you continue to embrace all I have for you in the place of our closeness.