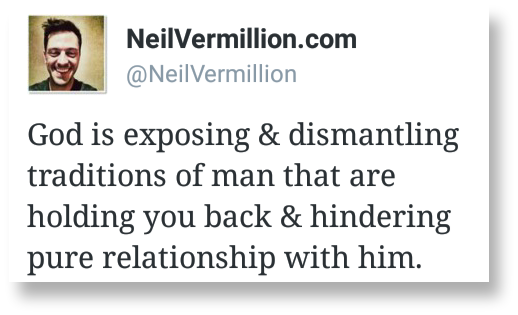 As you continue to allow me to redirect your attention, and reshape your heart and your mind, your perspective will change over time. For I will show you what's important, and I will direct your attention away from what is not. I will grant you long term perspective and insights to that which truly matters. So as you make yourself open to my influence, understand I will surely initiate and inspire change from within you.
And with this change aspects of your life will also be shaped and changed as well. You will change your habits and routines. You will change the company you keep. You will change the way you spend time, and you will change the motives of your heart. I will highlight issues within your own heart and show you areas for you to focus on as I bring about more and more awareness to you.
For I am setting you up to advance. I am setting you up to move forward in the things I've called you to, in the things I've established within your life. And I will initiate this advancement so you will know and understand it has come about by my doing, and not by your hand. And with this understanding you will be able to abide in peace, knowing these are my plans for you.
For I will guide you and I will shepherd you, keeping you on-track, on the right path, directing you where you need to go at the right time. For my spirit will speak to you and make all these things plain and easy for you to understand. I will talk to you and you will hear me, and you will see me, and you will feel me, and you will know within your own heart you have heard from me.
I will break open the traditions of man, and expose them as weak, inferior, and inadequate devices to accomplish my will. They will also be exposed as unsuitable substitutes for relationship with me. And these traditions will no longer be able to hold you back, to limit you, to prevent you from growing further and achieving what I have for you. For I will not only expose them, but I will disable them and remove them altogether. And their remains will no longer influence, no longer have any sway over you, no longer pervert the path and process I already have for you.
And it will be from my perspective you will recognize these man-made traditions, devices, institutions, ideologies, and systems by which you live and govern. And as you recognize them you will also be able to see how to disable them, how to overcome them, how to dismantle them and return to that place of your first love in me. You will return to that simple place, that place of freedom, knowing, loving, and being. And in this place you will not only abide, but will also thrive as well.