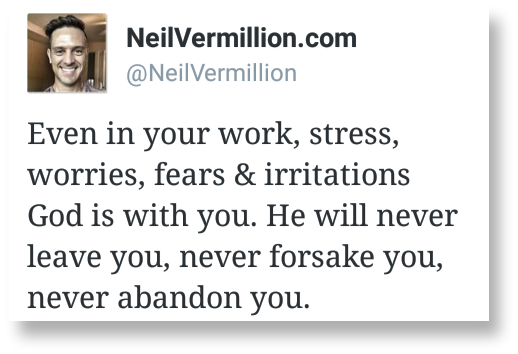 Even when you are stuck in times of brevity, when you do not have sufficient time to devote to the things which matter most in your life, I am there. Though you feel I am distant from you in every way, understand and remember, I have never left you. I will never forsake or forget about you, for you are my Beloved. And though you are busy with your day to day activities, I am there with you even still.
So do not feel discouraged, or that you are unable to sit before me in my presence. For even though you are busy, and active, and productive, I am there with you, and we are sharing all these things together. For you suppose that only in times of strict meditation, times of strict prayer, times of literally sitting still and doing nothing, are you able to receive and share with me. But as you continue to grow in my presence, and experience the never-ending love and fellowship in our union together, you will come to the understanding that nothing can ever separate you from my love – not even your busyness.
So while it is good for you to sit before me, and allow yourself the luxury of single-minded devotion, do not feel as though I am distant when you are not able to allow for this kind of extravagant time together. For even in your busyness I am there. Even in your work, in your stress, in your worries and fears and irritations, I am still there with you, and will never leave you.
So when you feel stuck, and unable to sit in quiet silence, remember I am with you still. I am near you even then. I am with you always, even to the end of this age.