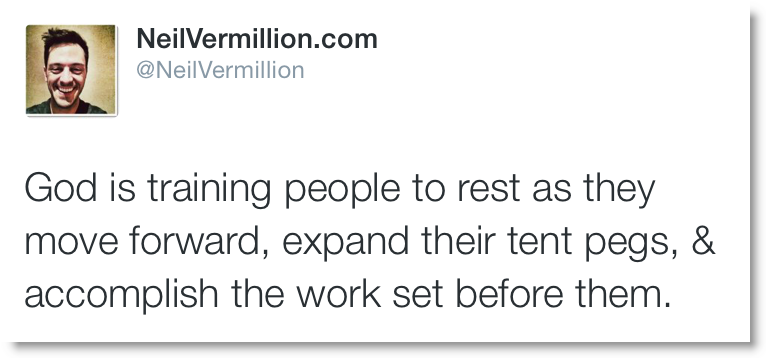 Even in this time and season of moving forward and continuing to advance in all I've put before you my spirit of rest is upon you. And for many of you this will be a time of learning and perfecting the art and skill of resting while you work, resting while you advance, resting in peace as you take new territory and expand your tent pegs.
And this will be a paradoxical time for your natural mind, but my spirit will guide you and train you how to cooperate, and learn this skill, if you will but listen and follow.
In this time of rest allow my spirit to give you that much needed recharge to your soul. Allow me to move, and remove, your weariness and perform the heavy lifting for that which you could not accomplish apart from me. For I will move on your behalf. And I will continue to not only encourage you, but empower you too. So as you perceive the move and unction of my spirit, do not harden your heart, do not allow confusion to block or hinder you, and do not hesitate to progress through the open doors before you, though it will be a paradoxical time in your life.
For even in this time of moving forward I will give you rest. Even in this season of expanse I will make a way to sustain you, and to recharge you.
So understand this day what I am saying, and open your mind and eyes to understand and see all I am doing, as you learn to rest while you work.