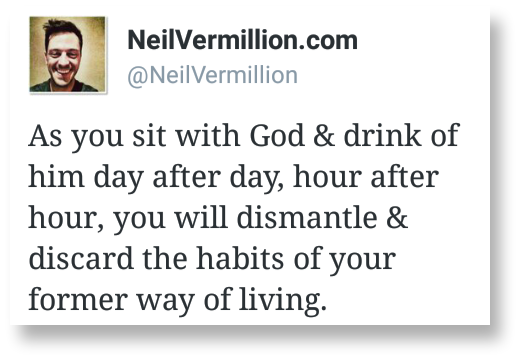 And as you enjoy the innovation of my spirit, and as you drink in all I've given you day after day, you will dismantle your carnal habits and enjoy the freedom and rest I've made available to you. For there is a greater way, a higher way, an easier way I've made available to you. And as you sit with me hour after hour, you will perceive the transformation I've done within you already.
And as you perceive, recognize, and begin to appreciate this transformation, you will also manifest the real self I've made you to be. You will behave the way I behave. You will see yourself the way I see you. You will think, and feel, and move the way I think, the way I feel, and the way I move. For you will discover what it means to be truly grafted in to me. And you will see and understand that I am in you, and you are in me. And with this will come not a new reality, not a new identity, but rather a revelation of your true identity and true reality.
For this great mystery has already been accomplished through the work of my son, but its comprehension has not yet been fully accomplished. And so as you sit with me, and drink of me day after day, hour after hour, you will learn to dismantle your former way of living, and imbibe of the beauty of reality of who you are in me as you continue to come closer and closer to the perception and comprehension of the reality of who you are in me.
And the understanding of your true nature, your higher nature, your greater nature, your easier nature will expand and increase as you allow yourself to bake and bask in the glory of the sun of my presence of my son.