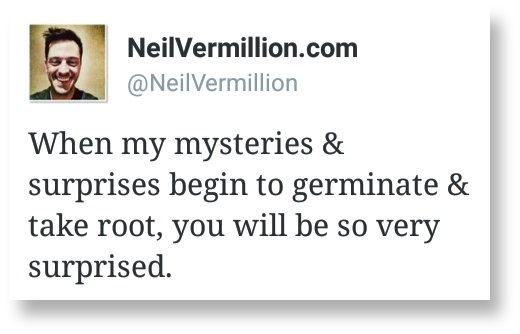 So as you continue to see the shakings, listen to my voice. For what I will speak and reveal to you in these days, and in the days leading up to their climax, will not be as in days past. For I have planted many mysteries within you, and they have not germinated as of yet. But they will! And when they do, when my mysteries and surprises begin to germinate and take root, you will be so very surprised.
For the beauty and glory of my plans is far greater than what you believe. My plans far surpass your understanding or your capacity to comprehend them fully. So trust in my spirit, and trust in my leadership, and follow what I put before you. For I will birth newness within you and I will cause what I have planted within you to bear fruit in its season.
So as you see me moving and you hear the sound of my voice, do not shrink back or hesitate. For I am calling you forth to pursue strange, new, and unusual tasks – things that would otherwise confuse and confound you. But as you listen to the sound of my voice, and follow my leadership, you will see it all come together.
For the beauty of my surprises will not be seen in advance. And the joy and delight in which I have chosen to execute these things will astonish and amaze you. So as I have said before, you will have to remain flexible and teachable in order to stay in-step with what I am doing in this hour. For it will look very different than you think it should look. And if you're not careful you will miss it. You will misunderstand it, and not be aligned to cooperate with it.
So with this in mind, prepare yourself and make your hearts ready. Do not be caught without oil in your lamps. For in the hour you need it, you will not have time to acquire it. So make yourself ready today, in order to align yourself and prepare yourself for tomorrow.
And the joy and reward coming your way will flood your very being and you will not be able contain it. And this is its purpose. You will have more than you can contain, and you will share with those around about you, and influence them, and disciple them, and train them, and love them. And you will be a blessing to all people, and your enemies will be humbled.