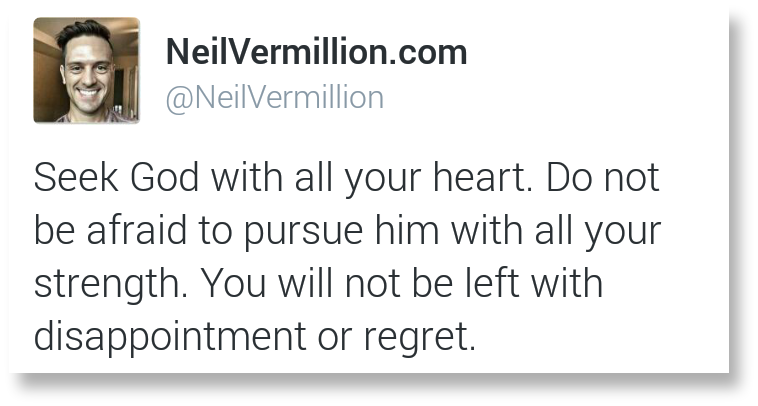 In this time of seeking me, seek me with all your heart. Do not hold back, do not be afraid to commit, do not hesitate. For as you seek me, surely you will find me. And as you find me, you will marvel and the majesty I will display before you. You will be amazed at all you find as you continue to seek me day in and day out. Day after day I will continue to amaze you and surprise you, and you will not grow tired of our fellowship together.
So even this day, do not hesitate. Do not procrastinate. For your most noble, most worthy pursuit will be in your knowledge and experience of all I Am. You will come to find the accomplishments of this world, the treasures and trophies attained, though costly in a very real sense, are but worthless trinkets in comparison to all I Am. So with this in mind, endeavor to move forward with your pursuit today, and do not hesitate, do not procrastinate. For on the other side of your quest waits your discovery of the glorious riches available to you, My Dearly Beloved.
And while you are moving forward without hesitation, also move forward without fear. Move in boldness. Move in confidence. Move forward in haste, but with passion and zeal knowing I am with you and I desire to reveal all I Am to you. I will not mislead you. I will not be harsh with you. I will not scold or terrorize you. You will come to experience me as your Loving Father in greater capacity than in days past. You will come to know me as your source, your sustenance, your support, your breath and life. And with this understanding and perspective you will not abide in fear, but will abide in perfect love and confidence.
And in this place of loving confidence you will not doubt or hesitate to commit. You will not be apprehensive in your devotion and pursuit of knowing and experiencing me. For as you taste and experience my goodness you will desire more. You will taste and know my goodness, and you will not be disappointed, you will not regret time spent together. So do not hold back, do not be afraid to commit, do not hesitate in your pursuit of me, but seek me with all your heart.