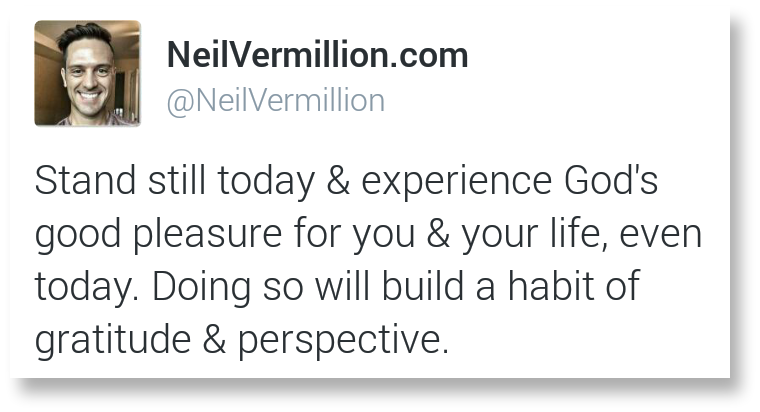 I am asking you to stand still in this moment. Stand where you are, understand where you are, and appreciate this very moment. For in your busyness and diversions of the day it is easy to miss where you are. In your haste and striving to accomplish it is easy to not appreciate this moment. It is easy to miss the beauty of where you are, even right now today. And though there are things you would like to change, take this moment right now to stand. Stand still and observe where you are, and appreciate where you are.
For this moment is good, but it is also fleeting. And as you observe your present circumstances you will document it in your mind, in your heart, and in your memory. And as you do, you will create a point in which you will be able to look back and reflect upon. While this may sound trivial to you, this practice will become a habit in your life that will give way to much gratitude in your life. It will give way to more peace, more appreciation, more patience, and ultimately, more joy. It will spawn a greater understanding of the bigger picture, and how your present settings fit in with it.
The practice of this habit will plant seeds that will yield greater insight for days yet to come. And with this insight you will increase in wisdom. For I will illuminate my methods, my timing, and my process to you as you open yourself to hear from me and receive my words to you. I will speak to you and give you what you do not have. I will teach you what you do not know. I will show you and train you, and will do so right now in this very moment.
This practice will also increase your trust. For you are so prone to make your own path. You're so inclined to advance first, and then inquire if you should do so. You can be so motivated by angst that your vision and perspective becomes clouded. So stand still today. Stand and allow me to clear the fog from before your eyes. Allow my love to wash away confusion and thoughts of fear. As you stand still, receive all I have for you in this moment. And as you do, your trust in me will begin to grow and increase within you, and this trust will bless you greatly as you move forward tomorrow.
Keep in mind my heart for you, My Dearest. Remember my motives. For everything I do is for your good. Everything I do is for your ultimate benefit, even though you don't always understand or appreciate it in the present moment. For I am working all these things together for your good, because I am motivated by my never ending love for you. Stand today and experience my good pleasure for you. Stand still today and experience my good pleasure for your life even in this present moment.
Stand still today giving no thought for tomorrow. Tomorrow has enough trouble of its own. Today stand where you are. Appreciate where you are. Know and observe where you are and see the beauty of this present moment, even in spite of all the imperfections, irritations, and delays that may be evident.
And as you practice this I will encourage you. I will speak to your heart. I will make those small deposits that will yield its fruit in season.