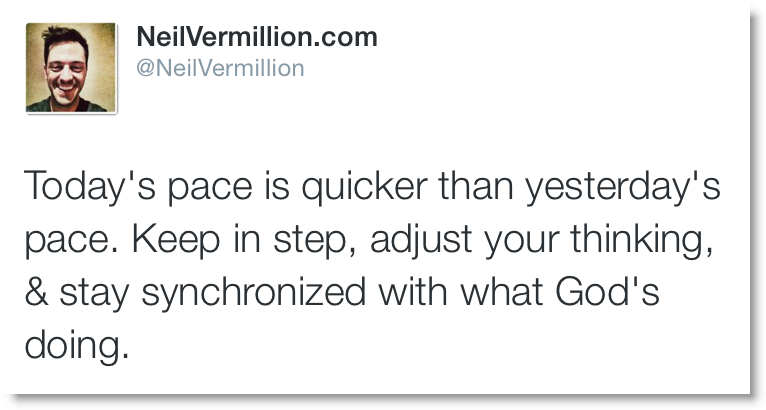 As you step out in faith it will appear. As you step out in the direction of your calling, the direction of the path I've laid before you, all you need will come. It won't always appear the way you want it appear. It won't always appear when you want it to appear. But it will appear. And it will be good. For in this season of expanse I am moving you forward rapidly, more rapidly than in days past. So understand the pace today is quicker than the pace yesterday.
So learn to keep in step. Learn to adjust your thinking to stay synchronized with what I am doing in this present season. If you see the door open before you, know this is my doing. If you see the door before you is closed, wait and remain patient. For the timing of the day is very important, and it will save you, and it will keep you, for without it you will end up working against me.
Though you want to cooperate you will end up attempting to reap in the season of sowing, and sowing in the season of harvest. You will mean well, and you will even be doing the right thing, but you will end up doing it at the wrong time. So be mindful of my timing, and understand not everything will be done the same as in the past. For those days are gone. They are over. I am doing new things in this day, and in this season.
So be preapred to step out. Step out even though you may not see everything all mapped out clearly before you. For this is the time to act. This is the time to move forward in faith, believing. And as you do, as you step out, as you take action and advance forward in the things I've called you to do, you will see things come together.
Click here to share this with your friends on Twitter.