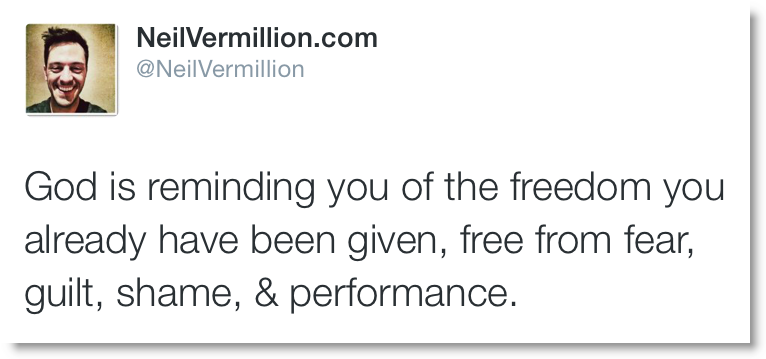 I see all things, and I know all things. There is nothing hidden from my sight. There is nothing I do not know, nothing I do not understand. There never have been, nor will there ever be,
any kind of surprises for me
.
I see all the emotions, issues, desires, motivations, and plans within your heart. I see the idol of performance within you, working hard to strive and produce motivated by fear and guilt. And though you know better in your mind, your heart is far from me. So you resort to what you know. You resort to what makes sense to you. You resort to what you can control. You resort to the mindset governed by your old nature.
And it is this mindset of performance and striving I desire to confront within you this day. I do not want to be harsh with you. I do not want to confront you in order to shame you or to embarrass you. But I am confronting this within your heart and mind in order to set you free from its influence. For you have already been made free because of the work of my son, but you turn over your freedom so quickly, so easily. So I am awakening this truth within you now. I am reminding you of what it already true, that you are already free.
For there is no need for fear. There is no need for guilt. For the old order of those things have been done away with, and I have given you a new life of abundance. So as I am with you in all these things, and I am making you aware of even the things hidden to you, trust in my work, and trust in my hand. For I will set your feet upon solid ground. And I will bring you to the green pastures of the knowledge of me, who I am, and all my plans for you.
Click here to share this with your friends on Twitter.