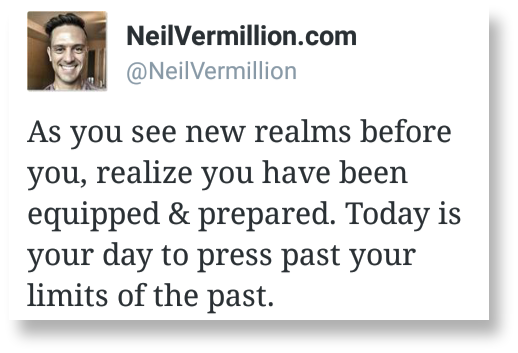 So consider you great threats. Consider you great obstacles. Consider the mountains in your life that seem too large, so big, so treacherous and formidable you could not overcome them, and remember this word to you. For surely I will bring you past your greatest foe. I will bring you past your greatest obstacle. I will bring you past all these things, and even more – more than you can imagine. So look to your troubles and recognize them as small in comparison to what I have accomplished in you and for you.
For this is a great day of salvation and redemption for you. As you embrace what The Spirit is saying you will walk past your boundaries into new realms, realms you did not see yourself as qualified to occupy in days past. But as you enter into these new realms now, you will truly possess this land, for I have prepared you. I have made you ready. I have helped you, tested you, prepared you, strengthened you, and trained you along the way – and all these things have been accomplished. As you see these new realms before you, know you have been equipped and this is your day to press past the limits you've settled for in days past.
These are the days for you to embrace all I have in store for you, to forget the small things you've too easily settled for in the past, and to run with perseverance the race marked out before you. For surely I am doing a quick work within you. And though it seems anything but quick at times, understand and know it is a very quick work in comparison to what lies ahead.
So continue to walk, and continue to look, and continue to see. For in doing so your mind and perspective will be shaped and shifted, and you will have greater clarity – the clarity you need for this day and hour.
Click here to share this with your friends on Twitter.