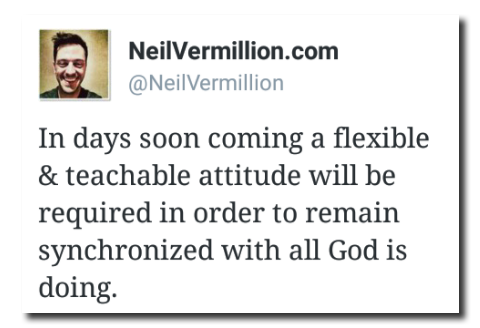 The days soon upon you will require a flexible mindset. The days soon upon you will not look like you think they will. They will be different. And if you are too strict, too rigid, too inflexible, you may misunderstand what is happening, and you may not know how to respond. So allow me to encourage you to be open to changes. Be open to things turning out differently than you think they should. Hold on to your plans, and your timelines, and your understanding how it will all manifest, but hold on to them loosely.
For the days ahead of you will surprise you. They will delight you, but they will surprise you. And it will require a flexible, teachable attitude to continue to remain synchronized in what I am doing. It will require you to let go of some preconceived ideas of who I am, of what I will do, and the time in which I will do it. You will be surprised at the people I have selected to carry forth my plans, and to execute with excellence what I have assigned them to accomplish. For my plans are not your plans, and I will affect change very differently than any man would ever suspect.
So prepare yourself for rapid changes and for many surprises. And also prepare yourself for delight, and prepare yourself for rapid advancement. For wave after wave will crash upon the shore, and it will wash away the debris, and it will sweep away the junk and the mire. My wind will blow the chaff, but the wheat will remain. So prepare your hearts. Prepare your minds, and continue to remain open, flexible, teachable.
For though you have an understanding, though I've revealed things to you, and you've understood them, there is still so much yet to be revealed. There is still much mystery surrounding how all my plans will be accomplished, how all these events will unfold, and who I will choose to do my work. So remain flexible. Hold on to your plans, but hold on to them loosely.