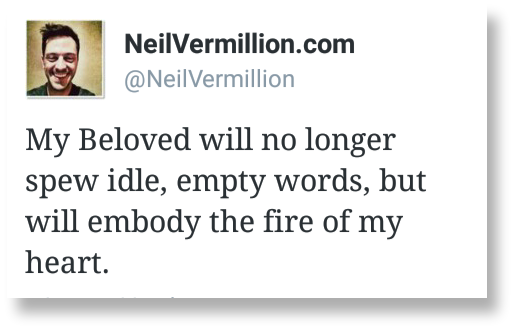 Surely I will prove myself strong to my Beloved. Surely you will look to the sky to see my strength. And when you see me, you will believe and not doubt. For there is coming a time of great doubt amongst the people of the Earth. The thoughts of the day will turn to terror, and worry, and fear. And all will look to the sky and ask, "Where is all this going?"
For those who have hardened their hearts against me will not hear me. They will not see me. They will not perceive me. And though I stand with kisses for my enemies, desiring to call them into my fold, bringing even them close to my heart, they have hardened their hearts against me, numbing themselves to the love and beauty of my call and invitation.
And though they resist me, still I will pursue. Even still I will wait, and wait, and continue to wait. I will shake, and interrupt. I will place pressure and initiate not-so-gentle nudges to awaken their slumber.
And still, though my love surrounds them, they do not open their eyes. Still they do not open their hearts. Even still they do not open their arms towards me to embrace my extravagant love. And so I will send my Beloved out in to the streets, in to the highways, in to the churches, in to the slums, in to the governments, and into the schools. And my Beloved will no longer spew idle, empty words, but will embody the fire of my heart. She will speak with power and precision and will live the truth of the words in congruency worthy of me.
And the words I give her will break in. For hearts will be ready. The fruit will be ripe, and my Beloved will be equipped, ready, and available for the harvest. For I will send her and commission her, and she will walk among them. And as she does, my love will consume them, and they will come to know me. They will encounter me, and we will no longer remain distant strangers. And this will bless my heart, for it is my deepest desire to reconcile all the world unto myself.
My Beloved will carry out my work, accomplish the assignments given her, and because of her faithfulness and willingness, many will come to know me that previously had their hearts, eyes, ears, and minds closed to me. And it will be a time of great glory, a time healing, mending, and restoring.
It will be a time of great celebration, and a time of fulfillment of deep desires. For it will give me great pleasure as my Beloved accomplishes and embodies the greatest, deepest desires of my heart.
Click here to share this with your friends on Twitter.