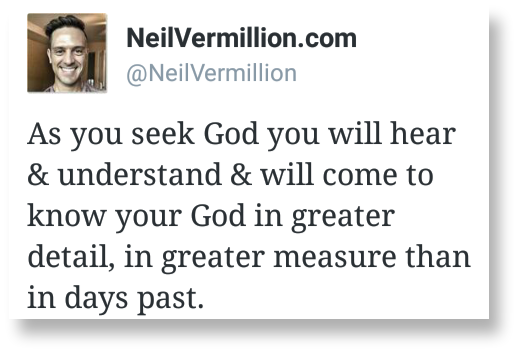 The great extremes of my love for you will be shown to you again and again as you are willing and able to sit with me and realize them. For I have made them freely available to you already, and I will show and remind you again and again. For my love for you is great, and my patience for you is great. All I have in store for you is so very great. And as you allow me to speak to your heart you will come to find there is never any need to worry or to fear.
For all things are in the palm of my hand. And all these things will work to your good over the course of time as you continue follow me. For I will speak to you plainly, and you will come to know what I have for you in great detail. And in the understanding of this revelation you will become so very bold. You will become so very courageous. For the vision set before you will activate the passions and desires already planted deep inside you. And as these desires grow, they will manifest all the gifts, talents, ambitions, and callings also placed within you.
For you have been created for love, community, and fellowship, but you have also been created with purpose. You have been created to accomplish. You have been created to achieve. You have been created to venture and to conquer as you advance and grow. So consider your heart, the things you think about, what excites you, what draws you and calls to you. Consider these things and allow me to speak to you and illuminate motives I've placed deep within. For I will speak and I will guide. And you will hear and understand, and you will come to know your God in greater detail, in greater measure than in days past if you will listen and receive.
And you will discard your former way of living as you embrace who I've called you to be, and as you embrace what I have called you to achieve. Your real life will be revealed and you will quickly and easily discard your previous life, with all its passions and desires, as you embrace the realization of who you really are, who you are in union with me.