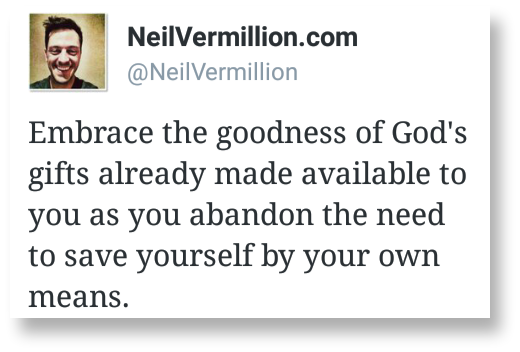 Your hope is built on me. Your security is built on me. Your future is built on me. None of these things have ever been built on you, nor your own ability. And while this understanding may sting a little bit at first taste after you embrace its truth you will be liberated from the burden to save yourself.
For you did not choose me, but I chose you. I made a way for you when there was no way. I reached down, reconciled the world to myself through my son. I have pursued you in an extravagant, relentless fashion.
And in all this time never did you make your own path. Never did you figure it out. Never did you justify yourself by your own efforts. But all these things were accomplished in me. And as they have been, so also will it be forever. So let go of this notion, let go of this burden, and allow yourself the freedom to abide in love, confident, stable, and secure in your union with me as you receive the beauty and glory of your salvation. Simply receive and drink from me.
For in me you have been brought close to my heart, able to enjoy my presence and fellowship regardless of circumstances. So embrace this good gift already made available to you, and abandon the need to save yourself by your own means. Allow yourself the luxury of a carefree life, confident in The One Who Loves You.
For my plans are to prosper you, to give you abundant life, to bring you into greater understanding of truth, discarding lies, deception, and misunderstanding as you drink in the joy of the fellowship in me. So as you lay your idols to the side, and abandon and forget them, you will walk with a lighter load, with no performance required of you, and continue to abide in peace, joy, gratefulness, and security in all I have for you.