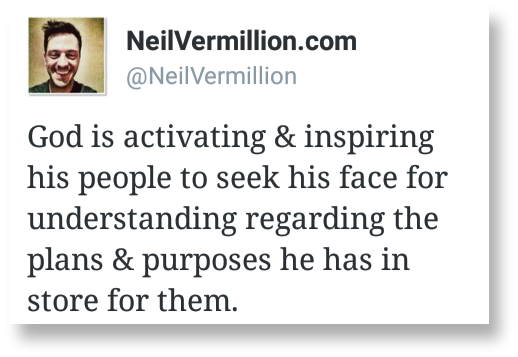 In these days, even today, I am training you to grow in new levels of competency, endurance, and effectiveness in the things I've called you to accomplish. I am reframing your mindset, opening up revelation and understanding to you in areas that have previously been closed to you. For you had the talent to accomplish in the past, but did not have the right mindset. You did not have the understanding how to move forward, when to do it, or why you should move in that particular direction. But today I am opening up this understanding to you, and I am making it plain and clear for you to see and understand.
And though you've seen these things before, you will see them in a new light, from a new angle, with a new perspective, and with a new understanding. For I am opening my understanding to you, even for things of old. For many of you have been so very close all along. Many of you have wondered around in your Promised Land, right in the very center of your destiny, yet you were not able to thrive, to progress, to succeed. And so thought you have been in the right place, you were not there at the right time, and you did not have the right understanding.
But now is the time I am activating and awakening those deep desires within my people. I'm calling you to come forth and to abandon the silly, trivial desires currently before your eyes. For the time to begin is now. The time to start is now. The time to step forward is now. And though you've been in the right place in years prior, you were not in the right time. But understand, my Faithful Ones, the time is now. So do not delay. Do not hesitate. Do not procrastinate in what I've shown you before and in what you already know to be true.
And likewise, in years past you were lacking in understanding. But know, I am giving you this understanding to you now. These are the days for you to advance and to move forward according to my plans, according to my timing, according to my call upon your life.
But these things will look different than you thought they would look. But thought it will look different it will be good, and you will still be able to recognize it. You will recognize the vision laid before you, even though it will look slightly different to you.
For the missing pieces to your puzzle will soon be found, and you will soon understand the reason for the seasons of delay in your preparation. You will understand my handiwork, my reckoning, my preparation, and my reconciliation. And as all the pieces come together, as all the fires begin to burn, and as all the events begin to coincide together, you will surely and clearly see the work of my craftsmanship and marvel at it all.
You will be amazed. You will be utterly stupefied at the majesty and glory of it all. And in its revelation, and in your understanding, you will be humbled as you see it all roll out before you in days soon to come. For your mind has only seen a very small glimpse of what is coming. Your mind has only conceived a very small, fragment of a piece of the plans laid in store.
So do not harden your hearts and consider yourself disqualified to pursue the call I've put upon you. Do not consider the failures of your past for they are gone. Do not hesitate wondering if this is the day. For the reward will be great for those who move forward in love, in faith, believing. And in this reward will come all its spoils, all the fulfillment, all the joy and completeness, not only for their own lives, but for the lives surrounding them too.