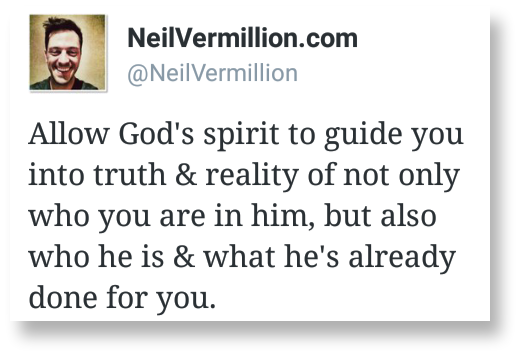 As you continue to sit in my presence you will become increasingly aware of the joy I've already set within you and before you. For some of you work so hard to acquire what you already have. And some of you search so long, to find what you've already been given. And still others, worry and fret and strive to accomplish what is already done. So allow me to highlight these truths to you. Allow me to point your perspective in my direction. Allow yourself the liberty to discard rubbish and embrace the light of my glory.
For with this perspective you will be able to see all that's already been accomplished. You will be able to see more and more what's already been finished. And though it is more than you can fully comprehend all at once, you will see it little by little, again and again, over the course of time as you continue to allow me to discard the rubbish you hold so close, so dear. For in the discarding of rubbish you will allow the substitution from dark to light to transpire in your own heart and mind. You will allow the finished works to be displayed on the stage of your own heart.
So allow my spirit to guide you into the truth and reality of not only who you are in me, but also who I am and what I've already done for you. For in this reality you will not be set free, but will come to the realization and understanding that you are free already. In this reality you will not gain your riches, but will more fully comprehend the riches already given you. In this perspective you will not earn or accomplish your breakthrough or your victory, but will appreciate and perceive more accurately the victory you already possess.
So sit with me, my Dear Ones. Allow me to bathe you in the warmth of my presence, in the light of my glory, and in the heat of the fire of my passion and zeal. For in my presence is fullness of joy, and as you continue to abide in it, you will continue to see the truth of the reality already accomplished, already done, already completed.