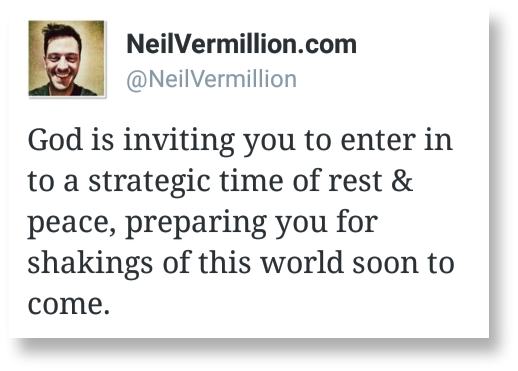 And though you are in my peace, and in my rest, this does not mean you will accomplish nothing. This does not mean you will be inactive. But the mindset and heart attitude will be very different than residing in your worry, fear, and striving. So in your time of activity, continue to reside in the place of my rest, and the place of my peace. And as you do, you will discover newer levels of enjoyment as you continue to accomplish all I've set before you.
For you will enter into the pace I've set before you. And in this pace you will be able to sustain. You will be able to continue without burnout, without growing weary. And you will not only sustain, but you will grow and continue to grow. You will mature and advance, and all the while it will be your joy to do so. For I will open up those doors of reward before you, and surely I will reward your faithfulness and obedience.
And the paradox before your mind will provoke you to grow in me, and cause you to deny lies and habits given you from years prior. You will encounter so much expanse and so much revelation that you will be surprised again and again how much is truly available to you.
And I will open your ears. And I will open your understanding. And all the little clues, all the little pieces given you in the past will begin to come together, and many of your questions will be answered. For it is my desire to reveal all these things to you, my Dear One, and it is in resting in my peace your ears will be more fully open.
For in these days you will grow beyond what you are capable in your own strength. For I will water and nurture all I've planted within you, and you will surpass your own expectations. And it is in the shadow of my peace, your essence will be preserved, protected, and pruned.