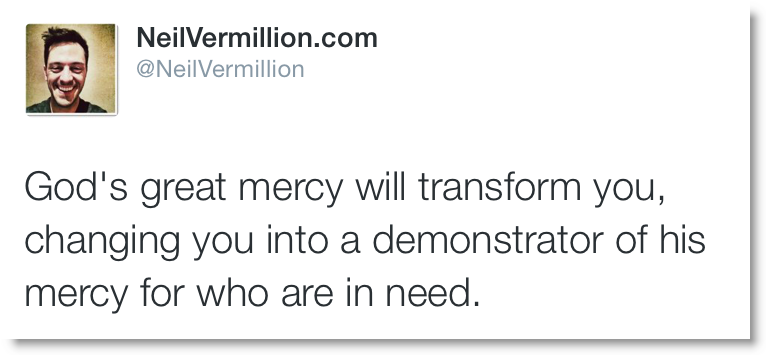 My heart of mercy towards you is never-ending. When you are in need, when you stumble, when you fall, I am moved with compassion because I see your need. I see where you are, and I see why you do the things you do. There is nothing hidden from me. And when you feel down and rejected, know I am with you even still, and I love you even still, accepting you just the way you are, loving you just the way you are.
My mercy for you knows no bounds. It is not able to be measured, not able to be contained or quantified. I have moved so many obstacles between us, obstacles you could never move for yourself, and I did all this because I love you, and because my mercy for you is great. So know this, when you need me most my heart of mercy is near you. When you feel lost, my heart of mercy is there for you. When you feel weakest, inadequate, incompetent, my mercy is there for you, to cover you, to hide your shame, to remember your faults no more, to comfort you, and to remind you of my great love for you and the unconditional acceptance offered in me.
It is in my mercy I reach out towards you again and again. It is in my great mercy I continue to remain patient. It is in my mercy I continue to reveal myself to you time and time again, in spite of your doubt and unbelief. For, like my love for you, my mercy is great, and I desire to soak you in my mercy that you may go and enjoy it for yourself, and for those around you too.
For it is my plan for you to experience and encounter my mercy that it will change and transform your life. And in this place of transformation, you will become agents of my mercy throughout the Earth. You will not just be messengers, but demonstrators. You will not be people who only speak of it, but will grow to become those who embody and demonstrate it. And this will happen as you continue to experience it for yourself first.
So come before me. Sit with me, and allow me to shower you and soak you in my mercy. Drink deeply from the well of my mercy, and allow yourself to be transformed into an agent of mercy, distributing it wherever you go, to everyone you meet. For this world that I love so much, and these people whom I love so much, are in terrible need of my mercy. So do not be shy. Do not be hesitant. But let yourself become extravagant in my mercy, giving away all you can to all you find.
Click here to share this with your friends on Twitter.