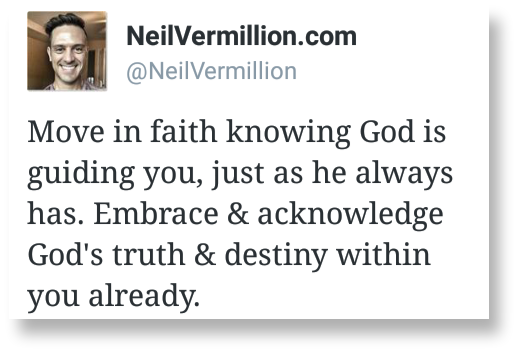 For you are on the verge of the next step of what I have in store for you. You are knocking on the door. Continue to progress and advance knowing you are on the verge of the transition I've already spoken to your heart. For there are things I've revealed to your heart your mind has not understood. There are truths within you you are not able to fully process with your rational mind. But nevertheless I have given them to you. And nevertheless I am birthing them within you, and through you, in this season upon you just now.
For in this time you will discover as you encounter new experiences they are simultaneously familiar. Though they are new, they are also familiar. You will discover these experiences awakening truths and realities within you that have always been within you since before the beginning. And while this is a mystery to you, do not allow yourself to be distracted from the moment by attempting to figure it all out. Instead, embrace and acknowledge this reality. Move forward in faith knowing I am guiding you now, just as I always have. Move forward knowing I have great plans for you and will continue to guide you every step of the way, even when you do not understand where you are going, or why you are going there.
For my timing is precise. My plans are detailed. My goals are righteous. My process is effective. And though you do not understand, remember it is not the responsibility for sheep to comprehend it all, but simply to trust and follow. So do not worry and do not fret. Do not feel as though you are in error or have somehow done something wrong. For it is my good pleasure to make your load light. It is my good pleasure to keep you free and to carry heavy things on your behalf.
So allow yourself to accept and trust and move forward realizing I am in all things, moving in all things, and not only setting you on course, but keeping you on course as well.
And though you look to the right and to the left and see tides rising, remember none of these things are a surprise to me. For I have known all these things since before the beginning of time, and I have given you all you will ever need, through our union together with me through my son.
As you discover new twists and turns along your course in life, and as you discover new talents, new relationships, new developments, and even new calls and destiny within you, trust in my leadership and trust in my guidance. Trust in my plans in your life, for I will cause you to prosper. For I have made so much available to you already.
There is no good thing I will withhold from you, My Dearest. I will am continually watching over you, thinking of you, remembering you as you continue to abide in the very center of my attention. There is no place you could ever escape my knowledge. In accepting this reality, allow yourself to be comforted. For I am more than trustworthy and I will not disappoint you.
As you continue to walk forward in following my leadership, continue to move in boldness and confidence knowing there is so much yet to be revealed, even this very hour, even this time and season newly upon you this day.
Click here to share this with your friends on Twitter.