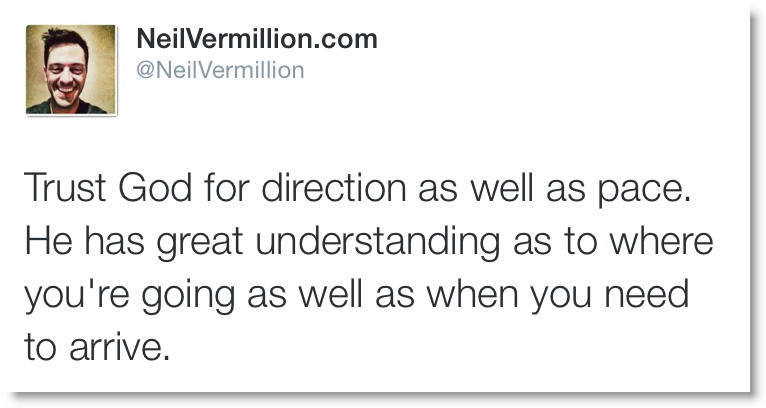 I know the path you are traveling. I've seen it from before the beginning, and I know where you are right now. And not only do I see where you are presently, but I also see where you are going. I know the destination, but I also know the pace and the rate at which you are traveling. For these things seem to be hidden, and seem to be confusing to you, but they are plain for me to see.
So because I understand where you are going, I'm guiding you, helping you, directing you so that not only will you arrive at the right place, but you will also arrive at the right time too.
Timing is important. Though you may arrive at the right place, you may arrive too early, or may arrive too late. Timing is also critical. And with this in mind, I am helping you to not only find the path, but to travel this path at the right pace so you arrive at the optimal time too.
So while the destination is important, understand I am working in your life, in your heart, in your mind, in your finances, in your circumstances in order to help you arrive at the right time too. I'm going to help you, just as I always have, to find the path and to make your appointment on time.
For I am keenly aware of timing, and I've worked all things out already. And though it seems I am uninvolved, though it seems I am moving you too slowly at times, and too quickly other times, I want to encourage you to trust in my timing, for I see all this already. I see the end. I see the beginning. I see the middle. And I see all things in between, as well as things you do not even know of.