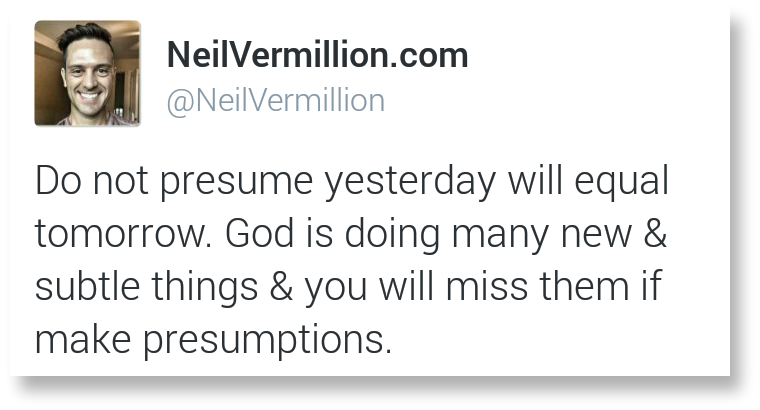 In these days of rapid activity do not look to the past to determine the outcome. Do not look at past experiences as indicators of the outcome of activities of today. For though the circumstances seem the same as in the past, even though they seem identical in many ways, understand you are not the same person as you were previously.
I am working in you, and with you today, to grow to become the person I have been destined you to be. For I see you finished. I understand how you will arrive, and I understand who you are – not just the person you think you are, but the person you really are deep down inside, the person no one else knows. For no one knows you like I know you. No one loves you like I love you. No one has such a personal, comprehensive, and intimate knowledge of your past, present, and future.
So realize I am not relating to the person you used to be, but rather, I am relating to the person you are today as I shape you into the person of tomorrow.
So when you find yourself in similar circumstances as before, understand though similar, they are different. For I am doing this within your life to bring you perspective and to awaken your memory. And this awakening will enhance your appreciation, but it will also document in your own psyche the progress you've made over the years, allowing you to observe better who you are now, as well as the person you you will be.
This is a manifestation, a realization, a confirmation.
For these circumstances are not set against you to hinder you, to discourage you, or to disqualify you but they are designed to reveal you. They are designed to reveal you who you really are. They are designed to reveal who you really are to the people around you too. For I have always been working with you. I have always had my hand upon you. I have always had you in the very center of my attention. And today, I am pressing you forward, little by little, to bring you to the next level of your progression, development, and growth.
It is out of my great kindness I am working with you. It is out of my great gentleness I am working with you. I am standing with you, helping you, teaching you, and instructing you. So while today's circumstances seem to be familiar, do not presume the outcome will be the same as it has been in years past. Do not presume yesterday will equal today, nor that today will equal tomorrow. For I am doing many new and subtle things, and you will miss them if make presumptions.
So be alert. Be mindful and aware. Inquire of me, and seek me, and I will answer you, and reveal myself, along with my mysteries, to you.