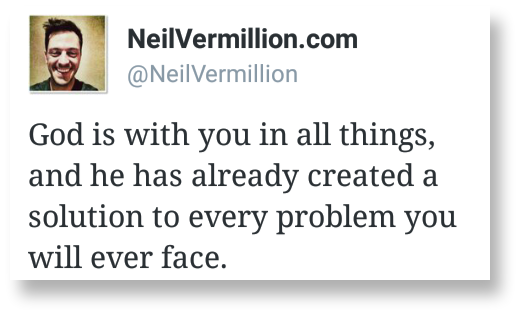 As you continue to step forward today, know I am with you in all things. Know I will not leave you. Know I have a plan for you. Know I have not only seen what is yet to come, but have also already created a solution for every problem you will ever encounter too.
So as you face your battles of this day, and the battles of this season, remember I am with you and you are not alone. You are not facing these things by yourself. You have not been abandoned. You have not been forgotten. You have not been left without hope, options, or resource.
For I have made myself available to you completely. I have opened up my heart and my spirit you you without measure, without limit, without hindrance. So when you feel you're at your limits, when you feel you're at the end of your strength, call out to me and join with me. For I am already there, already aware, already prepared.
And as you reach out to me you will find I am not distant. I am not aloof. I am not too busy, preoccupied with other, more important, things. As you reach out to me you will experience my hope, my perspective, my strength, my discipline, and my courage to help you in every situation, and there is nothing that could ever separate you from my love.
For I will make all things new. I will redeem all that's been lost. I will mend all that's been broken. I will restore all that's been stolen. You will come to know me as your Great Redeemer. You will see my hand in your life as you encounter limits, obstacles, and hardships again and again. And in all these things, know I will never leave you and I will always love you no matter what may come against you.