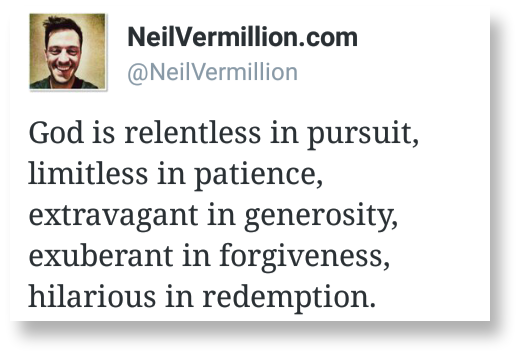 For though you will feel limited and incapable when you first encounter Goliath in your path, do not look to your own strength to defeat him. For in your own strength you will not be able to do so, but in me you can overcome all things. So when you see these challenges and feel overwhelmed, understand this is an opportunity to look past your natural perspective to what is seen, and look to the eternal perspective to see and focus on what is unseen.
For I will show you so many things, and you will see and understand so many things, if you will allow yourself to be open to it. There is so much more beyond what you see with your eyes. There is so much yet to be shown to you beyond what you see with your heart – and even still, so very much more for you if you will look past your mind. If you look past these limits, I will pour not only my mercy upon you, but my revelation and understanding too. And the grace I've given you will strengthen and enable you to consume, absorb, synthesize, and accomplish all I have for you, so much more than you think or imagine.
And it will be from a place of humility, and simplicity, and wonder through which you will encounter all these things. For those who are proud will not acknowledge they do not know. Those who seek to over-complicate things will miss the beauty and the simplicity of Truth. Those who have established themselves as their own authority in their own eyes, their own savior, will not embrace what is beyond them and is greater than them.
So with all of this in mind, allow yourself to be childlike. Walk, abide, think, love, dream, give and receive as a child. For those who are childlike are great in my kingdom. By my standard the childish disposition is greatness and is worthy of aspiration. By my measurement the faith, purity, trust, love, selflessness, and humility of a child's disposition is the paradigm through which you will enter into the greatness I have in store for you.
But this reality will be a stumbling block to the proud. It will be an obstacle to "the wise" and "the educated". It will be an impasse for those who see not with their heart, but only with their eyes. But even though this is true, I will help you. I will help you to see. I will help you to understand. I will assist you and bridge the gap so you can know me personally, heart to heart and face to face.
For in me all these things will flourish, and in me all these things will grow and blossom. In me you will find all you are looking for, and in me you will desire no other. For all this is found in me, and is found nowhere else. And I will guide you and I will direct you. I will pursue you and continue to be patient with you. For I am relentless in my pursuit, limitless in my patience, extravagant in my generosity, exuberant in my forgiveness, hilarious in my redemption.
So as you encounter Goliath again and again, do not stand against him in your own strength, but remember we are in this together. We are walking this path together. And together, there is no thing, no person, no circumstance, no idea, no stronghold, no principality, no system – nothing in all creation – able to stop my plans for you. For I have overcome all things, and in me you are established in victory.