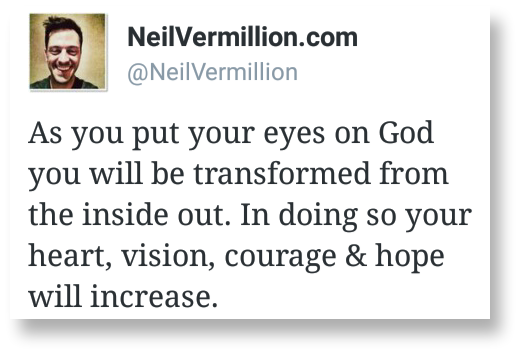 As you watch me, and keep your eyes upon me, you will see your own perspective begin to change. You will see your thoughts begin to change, your motives begin to change, your heart and emotions will begin to change. There is no aspect to your life that will not begin to change as you take time to sit with me, gaze upon me, and abide together with me. For knowing me will transform you from the inside out. You will be changed over the course of time as you allow yourself to be influenced in my presence by my spirit.
And in this place of transformation your heart will come alive. Your vision will become clearer. Your understanding will increase. Your courage will expand. Your hope will not only come alive, but will increase, able to sustain you through hardships, difficulties, and persecutions.
And all these things will serve you, will be a blessing to you, and will cause you to thrive, not just survive. For there is healing in coming to know me and in sitting before me. There is wholeness in my presence. There is fullness of joy in my presence. There is everything your heart, soul, spirit, and even your flesh could ever crave in my presence. And it is together with me you will find the satisfaction and fulfillment of all you desire.
For I will be your great reward. Knowing me, abiding together with me in harmony, embracing our fellowship together will give you joy immeasurable, joy unspeakable, joy upon joy again and again. So as you find yourself consumed by the cares of this world, working hard, suffering, and striving day after day, take time to forget about such things, and direct your attention and your eyes to me. For as you keep your eyes upon me you will see your own perspective begin to change.