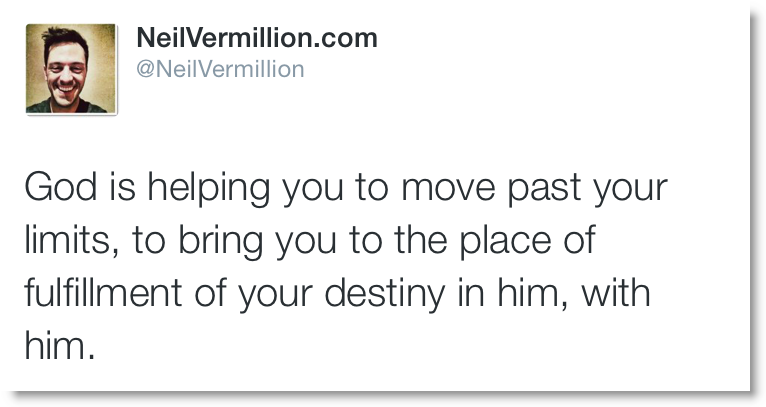 In these days I am moving on your heart and moving on your mind to bring you past your limits. I'm moving you past the status quo and advancing you in to the realms I have in store for you. I'm working in your circumstances to get your attention and open your eyes and ears, so you will see me moving. For there are things I've done already, but you've not discerned it.
There where things happening in your life I was using to awaken you, to get your attention, and you did not perceive it. And so now, I am continuing with the good work I have started in you, and I'm moving and shaking your heart and your mind. I'm helping you to learn of me, and to discern the move of my spirit.
I'm shaking things, and moving things, and even bringing about new levels of expectations within you. For I am working to push you past your obstacles. I'm working to stretch your mind, and expand your concept so you will not continue to be limited.
And while you want to move past your limits, many times you are motivated by your own desires, your own reasoning. Many times you want the right thing, but you are unable to find it. And so I am helping you in this way too. For I see your heart's desire to want to do the right thing. And I see your circumstances and know where you are, as well as where you have come from. So I am working to meet you, working to assist you, helping you to overcome.
And I'll help you by guiding you. I'll set you up to learn the lessons you need to learn. I'll bring people into your life to guide you, train you, correct you, and even discipline you. And all these things, though uncomfortable at the moment, will work out to shape you and mold you in your present day.


And I will put my grace upon you to empower you. And I will cause you to prosper. And when it's all said and done you will be found faithful and wise. If you don't resist the move of my spirit, and open your heart to listen, follow, and obey, you will be found among the faithful and the wise.
Click here to share this with your friends on Twitter.