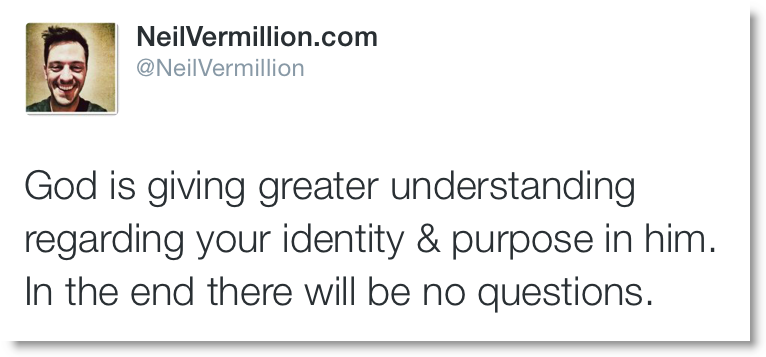 These are great and wonderful days. Understand as you continue to come alive to the things I've called you to pursue, your days of greatest advancement, adventure, and fulfillment will begin and continue to manifest. All the days and years of preparation will begin to unfold before your eyes and they will make sense to you. You will understand. And you will come to a place of greater revelation and greater understanding. And as a result, you will have greater confidence, knowing you have been called, why you have been called, what season you've been called to, and to what you've been called to do.
You will no longer roam about in confusion and apprehension, unsure of who you are, or what you're called to be doing. For I will reveal all these things to you by my spirit to each of you one by one, as you seek me. As you seek, you will surely find. If you continue to knock, this door of understanding will be opened to you. And when it does, you will see and understand and know. For I will show you all these things, and your questions will answered. But if you do not knock, the door will not be opened.
For there is coming the time when those who love me will follow me and give all they have in service to me. They will answer the call placed upon their lives. And though much will be required of them, they will gladly give it all, gladly sacrifice much for the sake of this call. For they have already heard the call, and they've already answered and surrendered. And in their hearts they have never wavered, they have never doubted. And in these days soon coming, all these things, and all these people, will be revealed and it will be plain to see.


For I will show my love for those whose hearts are faithful to me. I will show my power for those who have chosen my ways. I will honor those who have chosen my timing. I will reward those who have chosen and my works. I will shower my provision upon those who have endured the process of preparation and have faithfully followed the path to make themselves ready. I will show my grace and I will show my hand. And in the end, there will be no more questions, for all these things, and all these people, will be revealed..
Click here to share this with your friends on Twitter.